Bruce Springsteen sends Rock in Rio crowd into frenzy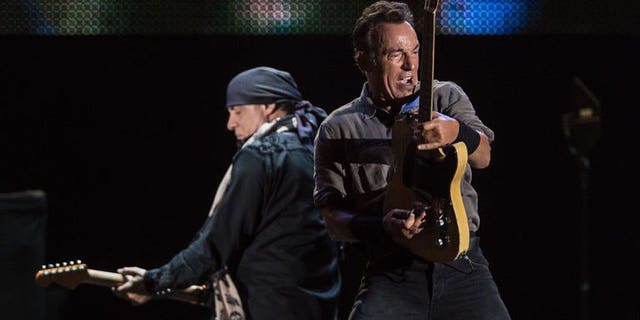 NEWYou can now listen to Fox News articles!
RIO DE JANEIRO (AFP) – US rock superstar Bruce Springsteen mesmerized tens of thousands of fans with an electrifying performance at the Rock in Rio festival overnight Saturday.
Playing with the E Street Band, the New Jersey rocker, who turns 64 Monday, kicked off his concert by singing in Portuguese "Sociedade Alternativa," a hit by Brazilian rock king Raul Seixas.
Back in Brazil after a 25-year absence, "The Boss," as Springsteen is known, followed up by belting out his own hits, including the iconic "Born in the USA."
For more than three hours, he showed extraordinary vigor and stamina, racing up and down, jumping on a piano, bringing fans onto the stage and giving the microphone to a child who sang his "Waitin' on a Sunny Day."
"It seems that he is the one who is enjoying himself the most and this is contagious," said 34-year-old Fabiana Kupfer.
Springsteen also delighted his adoring fans with a rousing rendition of the Beatles' "Twist and Shout" and promised to return to Brazil soon.
Earlier fellow American John Mayer captivated a predominantly female crowd with spirited guitar solos and by singing his hits "Your Body is a Wonderland," "Daughters" and "No Such Thing."
Rock in Rio, one of the world's largest music events, was to wrap up Sunday night with performances by two heavy metal bands, Avenged Sevenfold of the United States and Britain's Iron Maiden.
The week-long festival, which features 127 bands and artists, was opened by US diva Beyonce and French DJ David Guetta, among others.