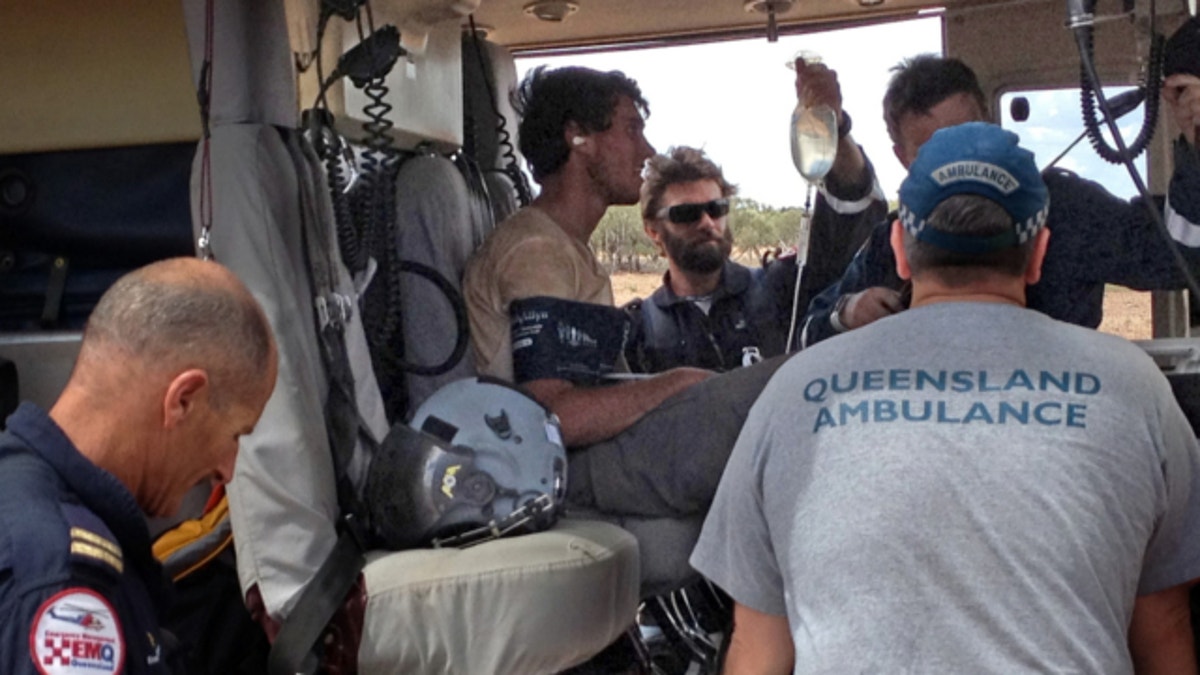 CANBERRA, Australia – A British teenage backpacker drank contact lens fluid and his own urine to survive three days lost in Australian Outback scrubland in oppressive summer heat, his mother said Saturday.
Claire Derry reached the bedside of her 18-year-old son, Sam Derry-Woodhead, on Saturday at Longreach Hospital in northeast Australia, where he is recovering from dehydration.
"He's an incredibly lucky man and we're incredibly lucky that people kept looking as long as they did," Derry told the Daily Mail.
She said she feared the worst while flying from London's Heathrow Airport to Longreach until she was told during a stopover in the east coast city of Brisbane that searchers in a helicopter had winched her son to safety on Friday.
"He'd survived on fluid from contact lenses and his own urine," Derry told Ten Network TV. He was sunburned and had lost 33 pounds, she said.
Derry-Woodhead, who's from Richmond upon Thames, outside London, became lost in scrubland while jogging Tuesday near Upshot Station, a cattle ranch 55 miles from Longreach.
He had been working at the ranch for less than two weeks as a novice cowboy known in Australia as a jackaroo.
Temperatures reached 104 Fahrenheit as around 50 searchers scoured the rugged terrain over three days. Two searchers received medical treatment for heat stroke.
Alex Wright, who was part of the crew that rescued Derry-Woodhead, said they were lucky to spot him through the trees 4 miles from where he became lost.
"We just happened to see him as he was crossing a clearing," Wright told Ten. "He's been dehydrated. Everything about him, all of his features, looked very sunken."
George Thomson, another rescue crew member, said Derry-Woodhead thanked them after being winched aboard the helicopter and asked for a popsicle.