British soldiers told not to shout at, insult terror suspects, report claims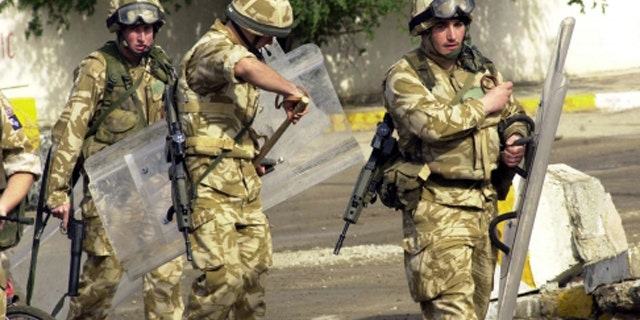 British soldiers have been told not to shout in terror suspects' ears, use "insulting words", or bang their fists on tables or walls during interrogations, according to a published report.
Britain's Sunday Telegraph obtained court papers outlining regulations for military intelligence officers, and current and former commanders have warned that the guidelines are so strict as to make interrogation pointless.
"The effect of the ambulance-chasing lawyers and the play-it-safe judges is that we have got to the point where we have lost our operational capability to do tactical questioning. That in itself brings risks to the lives of the people we deploy," Tim Collins, a retired British Army colonel who now runs a private security company, told the Telegraph. "These insurgents are not nice people. These are criminals. They behead people; they keep sex slaves. They are not normal people."
There is also concern, in the wake of this week's release of a report by the Senate Intelligence Committee documenting alleged torture of terror suspects by the CIA following the Sept. 11, 2001 attacks, that soldiers will risk exposure to disciplinary action and legal claims.
"While these insurgents are chopping people's heads off and raping women, the idea they can take us to court because somebody shouted at them is ridiculous," Sir Alan West, former Minister for Security and Counter-Terrorism told the paper.
The Telegraph reported that the new interrogation rules, known as the "Challenge Direct" interrogation technique, were introduced in 2012, and were laid out in a ruling by Her Majesty's Court of Appeal over the summer. The court's ruling upheld the technique after a challenge by lawyers for Haidar Ali Hussein, an Iraqi civilian arrested in 2004 who alleged that he had been subjected "to substantial periods of shouting" while detained and claimed damages from the Ministry of Defence over alleged mistreatment.
Despite the ruling in favor of "Challenge Direct", the Telegraph reported that the three Court of Appeal judges identified several breaches while viewing videotaped interrogations of prisoners in Afghanistan. Among them were a questioner who "held the hand of the captured person ... a breach of the prohibition on physical contact" and another interrogator who suddenly moved forward from a crouching position so that his face was right in front of the captured person's." The judges described this maneuver as "physically intimidating."
The Challenge Direct technique was implemented amid public outcry over the 2003 death of Baha Mousa, an Iraqi who was fatally beaten while in British military custody. A 2011 inquiry report found that Mousa had suffered lengthy and repeated beatings by British soldiers.
Click for more from The Sunday Telegraph.