British police are 'missing' nearly 500 registered sex offenders, report says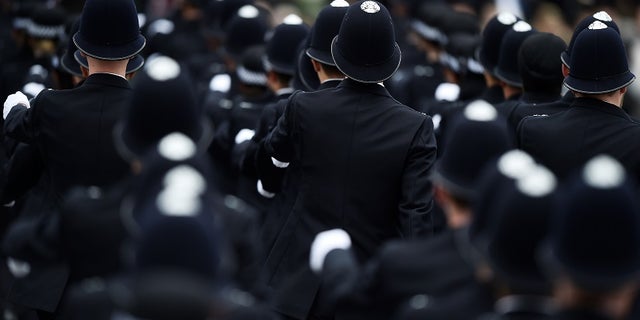 Police stations across the United Kingdom are not sure of the whereabouts of 485 registered sex offenders, a report found.
Sky News reported the 485 "missing" registered sex offenders include rapists and pedophiles.
The media outlet obtained the figures from 41 of Britain's police forces after submitting Freedom of Information Act requests to all of the stations. Four police forces did not respond to the request.
The police forces declined to name any sex offenders whose whereabouts are unknown, stating it would violate the Data Protection Act, a U.K. law that enforces how personal data is handled.
TOP UK OFFICIAL SLAMS RUSSIA'S DENIALS OF POISONING EX-SPY AS 'ABSURD'
The Metropolitan Police, the largest force in Britain, said it was not sure where 227 registered sex offenders were. At least 38 of those offenders have been unaccounted for for some eight years, the police department added.
West Midlands Police said at least 46 registered sex offenders wanted by police were missing. Greater Manchester Police said 19 sex offenders were unaccounted for, while Police Scotland said 12 registered sex offenders were wanted. Kent and Northumbria Police each had a missing sex offender who vanished in 2005.
"The total number unaccounted for across the UK is up by 22 percent compared with March 2015, when 39 police forces revealed they did not know the whereabouts of 396 registered sex offenders," Sky News reported.
Duncan Craig, a sexual abuse survivor who founded online support group Survivors Manchester, told Sky News police need to be more vigilant when it comes to sex offenders. He also requested transparency on behalf of victims.
"Victims deserve the right to know that those that have committed these crimes against them are being dealt with correctly and managed properly," Craig said. "We can't keep going for the same rhetoric because we won't get anywhere if we do."
Alex Mayes of Victim Support, a charity that helps people "affected by crime or traumatic events get the support they need," told Sky News the figures may undermine people's confidence in law enforcement.
RIGHT-WING JOURNALIST LAUREN SOUTHERN DENIED ENTRY TO UK, PURPORTEDLY OVER CRITICISM OF ISLAM
"These figures will potentially be very alarming to victims of sexual offenses and could undermine public confidence in the criminal justice system," Mayes said. "To ensure the safety and well-being of survivors of sexual offenses, as well as local communities, it is vital that the police strictly monitor sex offenders."
By law, sex offenders are required to tell police and their probation officers their location and if they changed their address.
A report by the Ministry of Justice in October revealed 55,236 sex offenders were living in Britain and Wales in 2016 through 2017.
A Home Office spokesperson told Sky News police "will actively seek out further information and intelligence to locate [sex offenders]."