Break In 'Baby Hope' Case: Father A Suspect, Mexican Questioned After 22 Years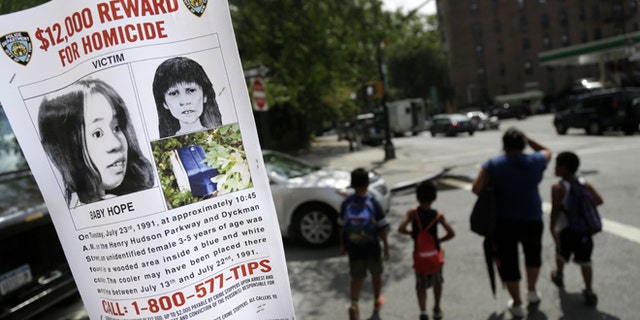 In a dramatic break in a cold case that frustrated police for more than two decades, investigators used DNA to identify the mother of a dead child known only as Baby Hope and now want to question her father, police said Tuesday.
The New York Police Department received a tip from someone after a publicity push over the summer. The tip, police said, led to the woman, whose name was being withheld amid a homicide investigation.
The mother is originally from Mexico and has lived in Queens, officials said. She was interviewed by investigators with the NYPD and Manhattan District Attorney's office.
"A DNA match was made with the mother, and the mother is cooperating," Police Commissioner Raymond Kelly said on Tuesday.
The woman, who lives in the city, told police that she believed her child hadn't died. She said the girl, who was about 4 at the time, disappeared while she and a younger sister were in the care of her father. It was unclear whether the disappearance was ever reported.
After getting the tip, investigators used DNA from the girl's body to match her to her mother. Police said Tuesday that they were still trying to locate the father.
The case dates to July 23, 1991, when a road worker smelled something rotting and discovered the girl's remains inside a picnic cooler along the Henry Hudson Parkway. Her body was unclothed and malnourished and showed signs of possible sex abuse.
Detectives theorized at the time that she had been suffocated before being dumped like garbage on a grassy incline. They estimated she was dead six to eight days before the cooler was found.
In an interview in July, retired Detective Jerry Giorgio said he had pursued hundreds of leads but none panned out. He had the case from 1991 until he retired from the police force. Later, as an investigator for the Manhattan district attorney's office, he kept up with it. His name and contact information are still on a website dedicated to the girl.
"It was so frustrating," he said recently. "We initially thought we'll get her identified and go from there and probably solve the case. It didn't happen."
As the frustration mounted, so did detectives' affection for the victim. They began calling her "our baby." Eventually she became Baby Hope, because they hoped and prayed they'd solve the case, Giorgio said.
Giorgio was instrumental in organizing the girl's 1993 funeral, which was attended by hundreds of people. The girl was dressed in a white frock and buried in a white coffin.
Baby Hope's body was exhumed in 2007 for DNA testing, but no DNA could be extracted because of its poor condition. A second attempt was made in 2011 using better technology on bone material and produced a usable DNA sample, police said Tuesday.
Based on reporting by the Associated Press.
Follow us on twitter.com/foxnewslatino
Like us at facebook.com/foxnewslatino