Brazil's President Rousseff to be First Woman to Open United Nations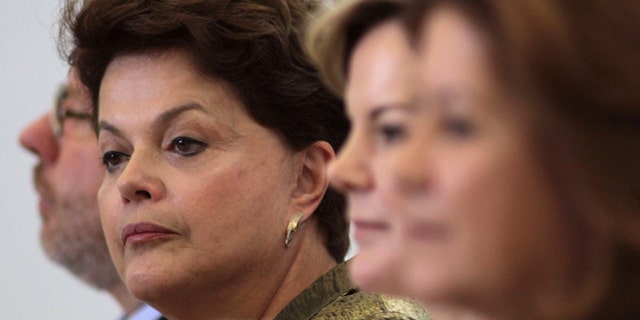 Brazil's President Dilma Rousseff will be the first woman to ever open the round of speeches marking the beginning of the United Nations General Assembly Session on Wednesday in front of 193 nations in New York.
"I have great pride in being the first women, a Brazilian woman, to open the United Nations General Assembly," Rousseff said on her weekly radio program called Coffee with the President. Rousseff spoke from New York, where she arrived on Sunday.
Brazil has always made the initial speech of the General Assembly dating back to 1947 and as the first woman to rule the largest country in Latin America she will make history again at the UN.
On the heels of the historic speech, US Secretary of State Hillary Clinton joined Rousseff on Monday to demand a greater global political role for women.
Clinton even found time to comment on her own failed bid to become President.
"As someone who tried to be a president, it's very encouraging to see those who actually ended up as a president," she joked.
"Despite notable progress, gender inequality persists," Rousseff said. "Women are still the ones who suffer the most from extreme poverty, illiteracy, poor healthcare systems, conflicts and sexual violence."
Rousseff, 63, is one of the most powerful women in the world and is expected to speak on a wide range of topics.
"I'll talk to heads of state from 193 countries who will participate in this General Assembly. We are going to discuss important themes like the role of women in the world, combating diseases such as diabetes and high blood pressure and we will talk about the global economic crisis," she explained.
Her remarks are also expected to include full support for the Palestinians who are pushing for statehood recognition from the United Nations – an issue taking center stage in this year's event. Brazil recognized the Palestinian State in December 2010, in a public letter from then President of Brazil Lula da Silva to the Palestinian National Authority President Mahmud Abbas.
Brazil's leader has had an unlikely rise to the top as a former Marxist rebel turned politician who claimed Brazil's seat of power in January. Rousseff was part of an armed rebel group for three years before being arrested and imprisoned in 1970. She spent three years in jail, during which time she was brutally tortured.
Reporting by the Associated Press used for this story.
Follow us on twitter.com/foxnewslatino
Like us at facebook.com/foxnewslatino