Brazilian woman helped U.S. sect leader elude molestation charges for years, police said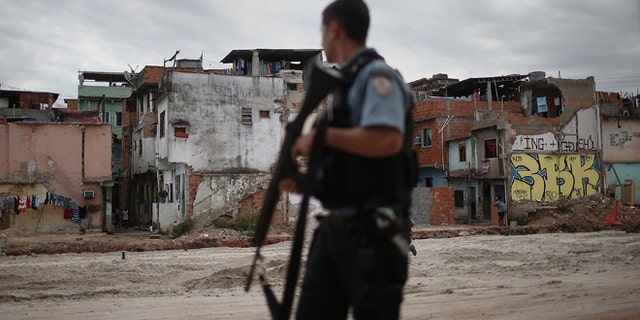 NEWYou can now listen to Fox News articles!
RIO DE JANEIRO (AP) – A Minnesota religious leader sought by the U.S. on sex charges was able to elude a manhunt because of the support of a local woman, a longtime friend who travelled with him and supported him, the Brazilian lead investigator in the case said Wednesday.
Kandy Takahashi, chief of federal police in the Rio Grande do Norte state, said the 33-year-old woman took Victor Arden Barnard under her wing when he arrived in Brazil in March 2012. She said they traveled together to Uruguay and lived in several places in the state of Rio Grande do Norte before settling in a condominium in the paradisiacal beach of Pipa, where they were captured on Friday.
"She fully supported him at her cost," Takahashi said. "She was hiding him."
Barnard, 53, was on the U.S. Marshals Service's most-wanted list after Minnesota prosecutors charged him in April with 59 counts of criminal sexual conduct. Prosecutors say he had chosen about 10 girls and young women from his River Road Fellowship to live apart from their families in a so-called "Maidens Group" in a camp near Finlayson, 90 miles (150 kilometers) north of Minneapolis. Two have testified that he began sexually molesting them when they were 12 and 13 years old and continued doing so for years.
Barnard kept the girls secluded, using religious coercion and intimidation to maintain his control over them, according to U.S. officials. He allegedly told one victim she would remain a virgin because he was a "man of God."
Former River Road Fellowship member Jeff Sjolander said that the Brazilian woman caught with him Friday "became a maiden with Barnard" and The Associated Press is not naming her in case she might have been a victim, although the Brazilian investigator says there is no indication the woman was abused.
It was not clear if she was the same woman mentioned in the criminal complaint against Barnard: a Brazilian citizen who got involved with the fellowship after she went to the U.S. to attend school. The complaint said the woman, whom it did not name, returned to Brazil in 2009 when her visa expired, and that Barnard sent one of his alleged victims to South America to spend a few months with her, and later joined them himself.
Takahashi said the woman paid all Barnard's expenses. She had inherited money, owned properties and worked in real estate. Takahashi said the woman was released by police but could face charges of aiding a fugitive.
She couldn't be reached for comment, and calls to a lawyer she reportedly hired to represent Barnard went unanswered.
Brazilian authorities only started searching for Barnard in September after they received an extradition arrest warrant requested by the U.S. government.