Brazilian twin sisters commemorate 100th birthday with stunning photo shoot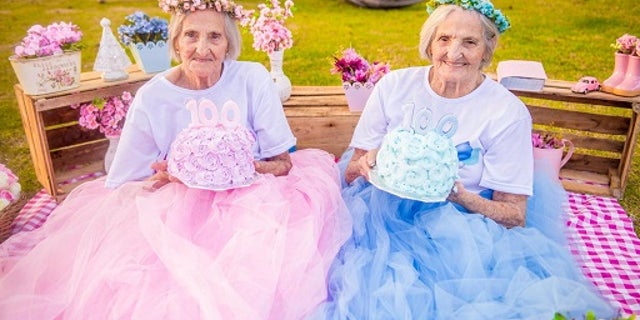 Brazilian twin sisters participated in a photo shoot Monday as a way to celebrate their 100th birthday later this month.
Twins Maria Pignaton Pontin and Paulina Pignaton Pandolfi of Ibiraçu, Brazil, were featured on a local news report that caught the attention of a photographer, according to ABC News.
Camila Lima, 28, contacted the sisters to see if they would be interested in being photographed.
"I am in love with the elderly and for about a year I have been developing photos with the elderly," Lima said to Fox News. "I photograph many young couples, so my love for photographing older couples is a way to inspire younger couples."
PENNSYLVANIA WOMAN, 105, FINALLY GETS WISH FULFILLED: A HIGH SCHOOL DIPLOMA
"I had never met anyone 100-years-old, let alone twins! I got in touch with their family and offered the photo shoot as a gift," Lima also told Good Housekeeping.
The photo shoot took an estimated two hours, which included makeup, hair styling, and matching dresses.
CALIFORNIA COUPLE CLIMBS MOUNT EVEREST FOR SPECTACULAR WEDDING: SEE THE PHOTOS
"They did everything I asked and did not complain about tiredness," Lima said.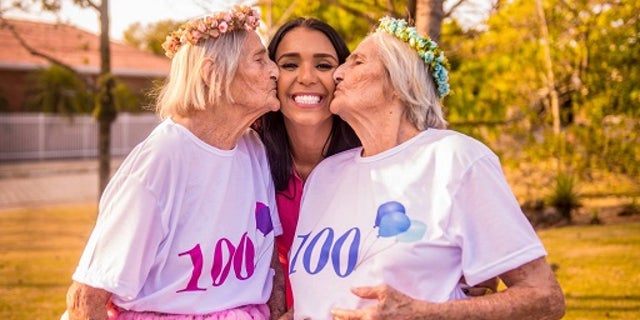 The sisters were both "very happy and satisfied" with the photographs, according to Lima.
On their birthday, May 20, the twins planned a large family celebration. Pontin has five children, 12 grandchildren, and seven great-grandchildren; while Pandolfi has six children, 19 grandchildren, and 16 great-grandchildren, according to Gazeta News.