Brazilian leader says politicians who received illegal campaign gifts will get no amnesty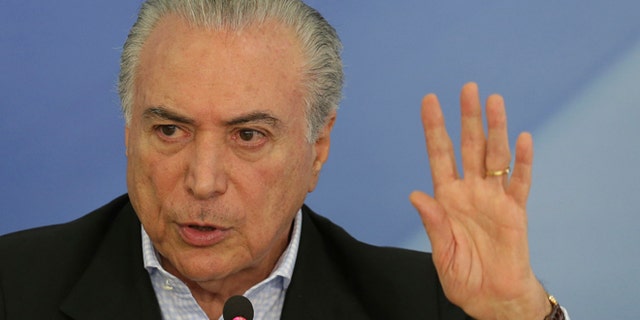 SAO PAULO (AP) – Brazil's political leaders promised Sunday that there will be no amnesty for politicians who have taken illegal campaign contributions as the president tried to quell growing discontent with his government.
President Michel Temer, who was already deeply unpopular with many Brazilians, is facing a growing political crisis amid allegations he has misused his power. The scandal could scuttle Temer's ability to pass a series of austerity measures that he says are necessary to pull Latin America's largest economy out of a deep recession — and could even sink his presidency. Opposition politicians have promised to introduce measures in Congress calling for his impeachment
With his presidency under threat, Temer turned his attention to another brewing controversy Sunday and sought to present a united front with the leaders of Congress.
Flanked by Senate President Renan Calheiros and President of the House of Deputies Rodrigo Maia, Temer told reporters that anti-corruption measures before Congress would not let off the hook politicians who have hidden or not declared campaign contributions. Many Brazilians are concerned the legislation to toughen prosecution of corruption might perversely offer amnesty to politicians who had previously engaged in the practice.
"We are here to reveal on the question of an amnesty for so-called electoral crimes ... that there is unanimity on the part of the leaders of the executive branch and the legislative branch," Temer said at the unusual Sunday news conference. "It was necessary to listen to the voice of the street."
Opposition groups planned protests later in the day calling for Temer's ouster.
Like us on Facebook
Follow us on Twitter & Instagram