Brazilian agency reaches isolated indigenous group to reunite them with relatives, ease tensions, officials say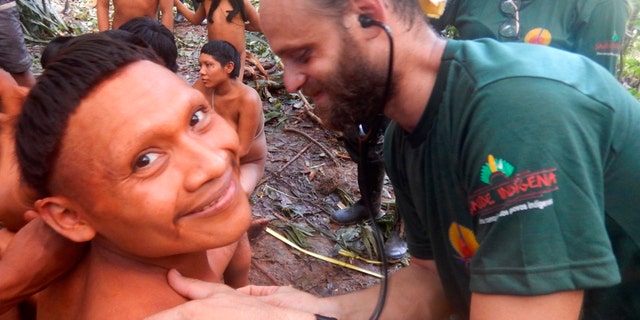 A Brazilian agency reached an isolated indigenous group after a high-risk journey, reuniting members of the group with some of their relatives and easing tensions with a neighboring tribe, officials said late last week.
About two dozen members of Brazil's National Indian Foundation, or FUNAI, set out last month to look for members of the Korubo tribe. The group is located in the Javari valley in the northern Brazilian state of Amazonas, near the country's border with Peru.
On Friday, it was revealed that FUNAI reached at least 34 members of the Korubo tribe and was to vaccinate them against diseases such as measles and the flu, The Guardian reported. Members of FUNAI said they discovered the Korubo growing crops including corn and bananas.
Brazil's government was said to have approved FUNAI making contact with the tribe despite laws limiting such encroachment.
One of the goals of the mission was to ease tensions between the Korubo and neighboring Matis tribe, who live about 12 miles apart. The Korubo tribe was said to be proudly traditional, hunting with blowpipes and wooden clubs and living their lives largely in the nude. Members of the Matis tribe, however, dress in Western clothes and hunt with guns.
STORMS KILL 3 IN BRAZIL; 20,000 EVACUATED IN PARAGUAY
The groups lived peacefully for some time, but a confrontation in 2014 turned deadly. Two in the Matis tribe reportedly were killed, and nine or ten in the Korubo tribe were found dead. After the incident, many remaining members of the Korubo tribe migrated away, leading their family members to believe they had been killed by the other tribe. Some joined riverside village communities, but some still decided to remain deep in the jungle where they could live in isolation.
One Korubo member, Xuxu, left his family and tribe in the dense jungle years ago. He was a part of the mission led by FUNAI and was able to reunite with his three brothers whom he'd not seen in years, as they were still living in total isolation with the rest of the tribe, according to the agency.
1,000 REPLACEMENTS FOR CUBAN DOCTORS IN BRAZIL QUIT PROGRAM
"It was actually quite moving. We soon found one of the two Korubos we saw first was a brother of one of the members of the expedition," said FUNAI coordinator Bruno Pereira. "There was a lot of emotion and tears."
The relationships between Xuxu and members of the isolated tribe were instrumental in convincing them not to lead counter-attacks against the Matis tribe, it was reported.
CLICK HERE TO GET THE FOX NEWS APP
The effort led by FUNAI this month was the most high-risk and intensive mission undertaken by the group since 1996 when the tribes were first contacted, officials said. However, they maintained that their latest effort didn't change their policy toward interfering with native life.
"It is important that the policy of isolation continues, of containment," Pereira said. "We carried out a delicate operation for their safety. We believe that if we hadn't done there could have been a new conflict."
Fox News' Ryan Gaydos contributed to this report.