Brazil party chooses ex-environment minister to replace candidate who died in crash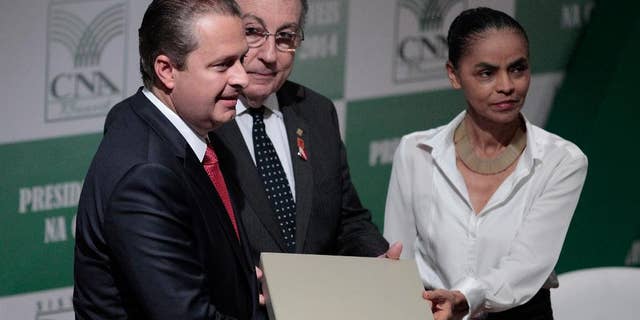 SAO PAULO – Leaders of a Brazilian party that lost its presidential candidate in a plane crash have chosen his running mate to stand in his place, officials said Saturday, creating a new challenge to President Dilma Rousseff's re-election.
Former Environment Minister Marina Silva, who made a strong run in Brazil's last presidential election, will replace the late Eduardo Campos on the Socialist Party ticket. Campos was killed Wednesday when his small plane smashed into a residential area in the city of Santos.
Ricardo Young, a Sao Paulo city councilman and close associate of Silva, said he took part in a Friday meeting in which party leaders told Silva they want her to run, and she accepted.
"The party has some internal procedure it wants to follow to announce it, but the main leadership has confirmed it," Young said.
The party's leader in the senate, Rodrigo Rollemberg, told the O Globo newspaper that Silva had been chosen and the party was now working on choosing her running mate.
Silva, 56, is a party outsider who joined Campos' ticket last year only after she failed to obtain enough signatures to register her own party for the race. However, she has a wide following and earned close to 20 percent of the votes in the 2010 elections. An evangelical Christian, Silva was a close associate of environmental activist Chico Mendes, who was murderer in 1988.
Silva and many other politicians were traveling on Saturday to Recife in northeastern Brazil, where Campos was born and where his funeral was planned for Sunday.
Polls had shown Campos running a distant third after Rousseff and opponent Aecio Neves, but many political analysts say she may be a stronger candidate, and could at least prevent a first-round victory for Rousseff on Oct. 5. Her main support comes among Brazilians disgruntled by sluggish growth, high taxes and woeful health care and education.
______
Adriana Gomez Licon is on Twitter http://twitter.com/agomezlicon