Brazil: Half of country's bank branches closed as strike hits 1 month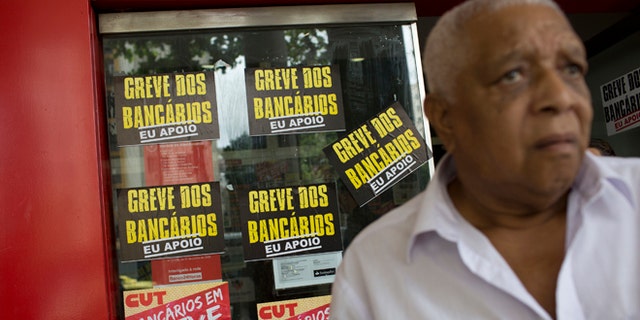 São Paulo (AP) – Union leaders expressed confidence Wednesday an agreement with Brazilian banks could be reached in the next few days to end a nationwide strike that has closed more than half the bank branches in Latin America's biggest country.
Roberto von der Osten, president of the National Confederation of Bank Workers, said the strike demanding a nearly 15 percent pay raise reached one month Wednesday, making it Brazil's longest bank workers strike in 12 years.
Workers are also demanding improved medical plans, better security measures inside banks, bigger meal vouchers and a bonus of about $2,600, he said.
The National Banking Federation has offered a 7 percent wage increase and a bonus of about $1,100. It did not respond to a request for an interview.
About 350,000 of Brazil's 504,000 bank workers are on strike, closing 13,000 of the country's 23,544 branches, Von der Osten said. He said that although all branches are not involved, it is "more than enough to pressure bankers."
Von der Osten said large businesses and industries mostly conduct banking transactions online, and 54 percent of all Brazil's banking transactions are done by computer or cellphone using the internet. Many people also use ATMs, which are unaffected by the strike, and can pay their bills at federal lottery houses.
"Only 8 percent of the country's banking operations involve face-to-face visits by customers to bank branches," Von der Osten said.
In Rio de Janeiro, Martha Lopes Pontes, 71, stood in line with about 40 people at one of the only Itau Bank branches open, with only two tellers working. She said she needed to make a deposit and pay bills, something she didn't feel comfortable doing online.
"Why are they doing this?" she said. "All this does is hurt the people."
Large white and red banners reading "We are on Strike" are pasted on the banks lining Avenida Paulista, one of Sao Paulo's main business thoroughfares. Only ATMs were working.
"It is getting tiresome," mechanic Jean Ribeiro said outside a Bradesco Bank branch. "Just about every day I have to wait on line for about 15 minutes to deposit checks and withdraw cash from the ATM and then run over to the lottery house to pay my bills."