Brazil corruption scandal grows to include 8 Cabinet members, 24 senators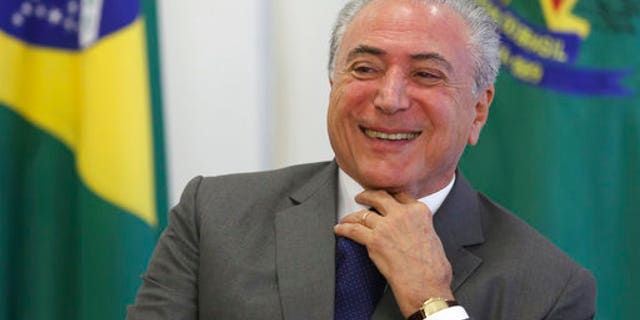 NEWYou can now listen to Fox News articles!
Brazil's Supreme Court has ordered probes into around 100 top politicians, including eight Cabinet members, as part of the corruption scandal involving construction giant Odebrecht.
President Michel Temer vowed that the government would forge ahead with its work despite the bombshell announcement.
"We have to move forward with government," he said during a ceremony to sign a measure promoting women's advancement. "If we are not careful, soon people will say the executive (branch) is not working, the legislative (branch) is not working, the judicial (branch) is not working. It's not like that."
REPORT: FORMER ODEBRECHT CEO SAYS BRAZIL'S TEMER REQUESTED 'DONATION'
He did not mention the scandal explicitly, but when asked about it later by reporters, he replied, "I will let the judiciary work."
The investigation, known as Operation Car Wash, has already unveiled billions of dollars in kickbacks and bribes paid to politicians by Odebrecht and other Brazilian companies.
The numbers in the newest decision were staggering: In addition to the eight ministers, investigations have been opened into 24 senators — one of whom is a former president of Brazil — 39 congressional deputies and three governors.
The evidence in the cases comes from plea bargain testimony by current and former Odebrecht employees.
PERU: BRIBES BY BRAZILIAN BUILDER COST COUNTRY $283 MILLION
Given that nearly a third of his Cabinet is affected, there are concerns that the probe could endanger Temer's push for social security and labor law reforms he says are critical to restoring economic growth after two years in recession.
Temer himself was mentioned in some of the judge's decisions to open investigations, but as president, he has temporary immunity for any crimes committed before he took office.
Many of the ministers have said they only received only legal contributions or that they hadn't seen the evidence against them.
BRAZIL JUDGE DIES IN CRASH AHEAD OF CORRUPTION PROBE RULING
"I regret that my name has been included in a list of people cited in Odebrecht plea bargains, without me having any possibility of accessing the information to defend myself," Agriculture Minister Blairo Maggi said in a statement. "I have a calm conscience that I did nothing wrong."
Foreign Minister Aloysio Nunes, who will be investigated after allegations he received $158,000 in illegal campaign contributions, called the accusations "untruthful."
Pedro Campos, a history professor at Universidade Federal Rural do Rio de Janeiro specialized in the relationship between constructors and public authorities, believes the number of politicians at risk proves that Brazil's political system has been contaminated with corruption for decades.
"Everyone knew this was happening, but we didn't know how extensive it is," Campos said.
The AP contributed to this report.