Boyfriend found guilty in strangling death of Pennsylvania college student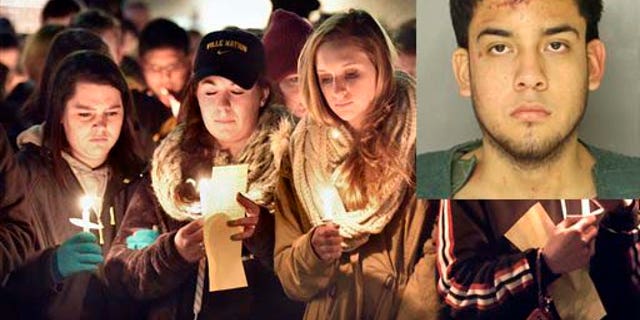 NEWYou can now listen to Fox News articles!
A jury in Pennsylvania found a man guilty of third degree murder in the death of his girlfriend following an argument over noodles.
Gregorio Orrostieta, 20, was convicted for the February 2015 death of Millersville University student Karlie Hall.
"We're surprised," Lancaster Country District Attorney spokesperson Brett Hambright told Fox 43. "We thought it was a first degree murder."
A first-degree murder conviction comes with a possible life sentence, while a third-degree murder charge carries a penalty of 20 to 40 years behind bars.
Hambright said the DA's office respects the jury's decision and will move forward with sentencing.
Orrostieta was arrested and charged last year after police, responding to a 911 call, found him trying to administer CPR to Hall while his face, hands and jeans were smeared with blood. He had scratches on his forehead and chest and his shirt was ripped, a police affidavit said.
Authorities said that the CPR was fake, and that Hall had already been dead for hours when Orrostieta called them to Millersville University, claiming the young woman had suffered a heart attack.
Questioned by police, Orrostieta said he shoved Hall, causing her to fall and hit her head on a chair, and then gave her a "back hand" slap to the face, the affidavit said.
Orrostieta told police that he and Hall had argued at a party Saturday night over spilled noodles and she had hit him, the affidavit said. They made up before returning to the dorm at around 1:30 a.m. and began arguing again, the affidavit said.
The dorm's video surveillance confirmed that no one else entered or left the room during the time when a struggle was heard in the dorm room.
The dorm's resident assistant knocked on the door, but no one answered and no further sound was heard, authorities said.
The couple, both from the Philadelphia suburbs, had been dating about 11 months.
Like us on Facebook
Follow us on Twitter & Instagram