Bomb found near Cambodian parliament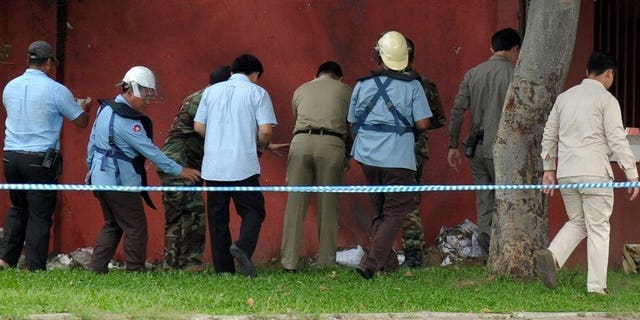 PHNOM PENH (AFP) – A home-made bomb was discovered Friday near Cambodia's parliament, police said, adding to tensions in the capital in the wake of strongman Prime Minister Hun Sen's disputed election win.
The makeshift bomb -- made from TNT powder in a plastic container -- was safely detonated by explosive experts, causing a loud bang that shook some nearby buildings, military police spokesman Kheng Tito told AFP.
Police also found three M79 rockets -- tied together -- close to Democracy Park, the location of opposition protests against the results of hotly disputed elections held in July.
"These devices were planted in order to cause insecurity, chaos and to intimidate people," Kheng Tito said.
The incident comes against a backdrop of political friction in Phnom Penh, where the opposition plans further mass protests on Sunday, Monday and Tuesday calling for an independent probe into the poll outcome.
According to final results released by the NEC on Sunday, Hun Sen's Cambodian People's Party (CPP) won 68 seats in the July polls against 55 for the opposition.
The CNRP has rejected the result, alleging widespread vote rigging, but so far its efforts to challenge the results have failed and it has few options left in its bid to overturn Hun Sen's victory.
In an attempt to end the dispute, Cambodian King Norodom Sihamoni late Thursday invited Hun Sen and opposition Cambodia National Rescue Party (CNRP) leader Sam Rainsy to a rare meeting in the royal palace.
Hun Sen, 61, has been in power for 28 years and has vowed to rule until he is 74.
A former Khmer Rouge cadre who defected and oversaw Cambodia's rise from the ashes of war, his government is regularly accused of ignoring human rights and suppressing political dissent.