Bomb explosion kills Iraqi provincial police chief, officials say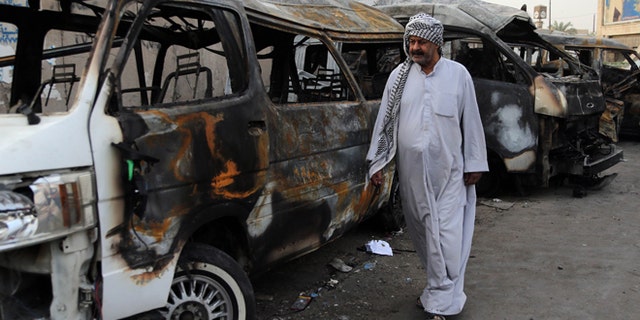 NEWYou can now listen to Fox News articles!
BAGHDAD – A bomb explosion Sunday killed the police chief of Iraq's restive Anbar province, Iraqi officials said, in a major blow to the Shiite-led government's efforts in fighting the lethal Sunni-led insurgency.
Anbar has seen a growing insurgency since early this year led by an al-Qaida breakaway group, known as Islamic State. Along with different Sunni armed groups, the group has fully controlled the city of Fallujah, parts of Ramadi and rural areas.
The convoy of Brig. Gen. Ahmed al-Dulaimi had been traveling through an area to the north of Ramadi when the bomb went off nearby, said councilman Faleh al-Issawi.
Al-Issawi added that Iraqi security forces had recaptured the area from the militants a day earlier. It was not immediately clear if others were killed.
Iraq's Interior Ministry, in a statement, confirmed the killing and called al-Dulaimi a "hero who set a good example for self-sacrifice." It praised his role in reorganizing the provincial police force and leading major fighting that caused heavy casualties among the militants.
The attack in Anbar followed a bloody day in the capital, Baghdad, where a series of car bomb attacks killed at least 45 people in Shiite areas.
Nobody claimed responsibility for the recent attacks, yet senior government officials and Shiite areas are among the favorite targets for Sunni insurgents.
Iraq faces its greatest challenge since the 2011 withdraw of U.S. troops, as militants from the Islamic State group now hold vast swaths of the country and neighboring Syria.