Bomb Attack in Indian Temple City Leaves Toddler Dead, 19 Injured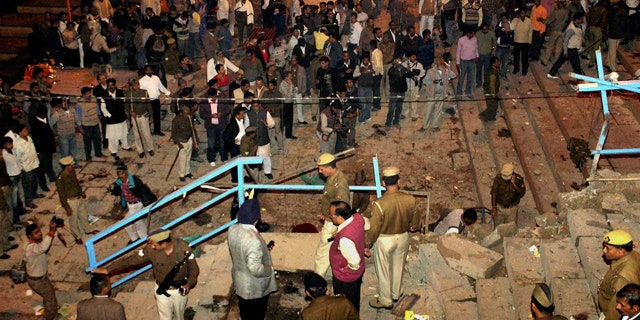 LUCKNOW, India -- A bomb hidden in a metal canister exploded Tuesday evening as thousands gathered for a Hindu ceremony, killing a toddler and triggering a stampede that left many others wounded in a holy Indian city.
Police said the blast in Varanasi appeared to be a terrorist attack but would not say who they suspected.
The bomb was stashed in a milk container on the Sheetla Ghat, one of many stone staircases leading to the Ganges river, the site of daily spiritual rituals, according to police official Brij Lal.
The explosion set off a stampede, and 19 people, including four foreigners, were wounded, Lal said. It was not immediately clear how many were hurt in the blast and how many in the subsequent chaos.
A 2-year-old who had been sitting on her mother's lap when the bomb went off died in a hospital, Lal said. Her mother and two others, including one of the foreigners, were in serious condition.
The force of the explosion ripped away a metal railing and damaged stones up to 200 feet away, said a witness, Ramatama Srivastava.
Srivastava -- who spoke by telephone from Varanasi, which is about 180 miles southeast of the Uttar Pradesh state capital of Lucknow -- said he noticed the foreigners were watching the Hindu prayer ceremony and taking photographs.
The ceremony is a daily ritual in Varanasi, the holiest city in the Hindu religion, during which priests and others light oil lamps, ring bells and chant prayers to worship the Ganges.
The Press Trust of India reported a Muslim terror group allegedly claimed responsibility for the blast in an e-mail to several media outlets. Authorities were working to verify the validity of the letter, allegedly sent by the terror group Indian Mujahedeen. PTI reported the e-mail was sent from a computer in a Mumbai suburb, and police were rushed to the area after the blast.
The Indian government issued a nationwide alert.
In March 2006, twin bombings blamed on a Pakistan-based Islamic militant group tore through a train station and a temple in Varanasi, killing 20 people.