Body found in suitcase on Utah highway could be that of missing Mormon woman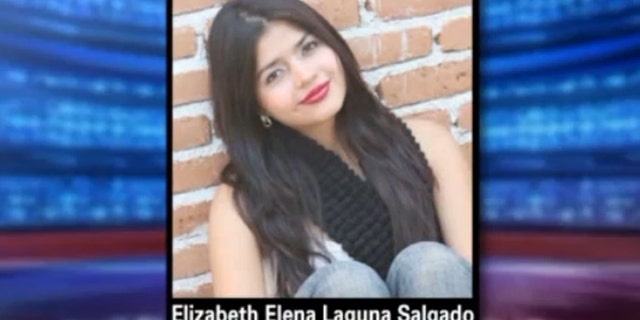 Human remains found inside a suitcase along a Utah highway could help solve the case of a missing Mormon woman who went missing last month.
While investigators say it's too soon to tell if the body is that of 26-year old Elizabeth "Elena" Laguna Salgado, there is rampant speculation that the remains in the suitcase are of those of the woman who disappeared on April 16 while walking home from an afternoon class at the Nomen Global Language School in Provo, where she was studying English.
Workers for the Utah Department of Transportation made the gruesome discovery on Thursday afternoon while working off a road near the Salt Lake City suburb of Magna. A medical examiner was at the scene and removed the body for an autopsy, but investigators said it will take a while before they can determine if the body is that of Salgado.
"We don't know much about the body's age, gender or anything like that," Utah Highway Patrol Lt. Jared Garcia told KSL.com. "We need to secure the evidence, process the crime scene, take care of that part of it."
Salgado, a civil engineer from Mexico who moved to Utah earlier this year to study English, had just returned from a Mormon missionary trip to her home country when she disappeared. Her parents, Libertad Edith Salgado-Figueroa and Julio César Laguna Ozuña, arrived in Utah on Wednesday on a 15-day permit to work with local authorities and search for their daughter.
"Our pain is great, we miss our daughter and she has always been a very good daughter since she was very young," Salgado-Figueroa said. "You have no idea what our pain is at this time."
Salgado's disappearance has drawn a wave of support from groups around Utah, with a candle light vigil attended by 60 people held for her in Provo.
"I would like to tell them to, you know, keep the hope," vigil organizer Alex Villalobos told Good4Utah.com. "This is not done. We're hoping for the best. We're still working and we will be out there until she's found. Until we know for sure that she's back safely."
Provo Police say there has been no activity on her cell phone or bank cards since her disappearance and search teams have been combing areas between school and her home and the area around the Mexican restaurant where she worked.
The Provo Police Department said they have a few suspects but "can't do anything until they have more concrete evidence."
Elizabeth Smart, a woman who was kidnapped from her parents' home in 2002, has joined in the search and the 27-year old missing persons advocate is urging volunteers to step up the search.
"I got involved in the hope that others will take notice of her situation and will give of their time, attention and prayers," Smart said, according to the New York Daily News.
During a press conference on Thursday, Utah Attorney General Sean Reyes remained optimistic that Salgado was still alive.
"We have a tremendous amount of hope, we are keeping Elizabeth and her family in our prayers," he said. "We have a tremendous amount of faith and … a tremendous amount of faith in our law enforcement personnel, who will do everything in their power to bring her home."