Bodies of 8 Medical Workers Gunned Down by Taliban Returned to Kabul, U.S. Embassy Says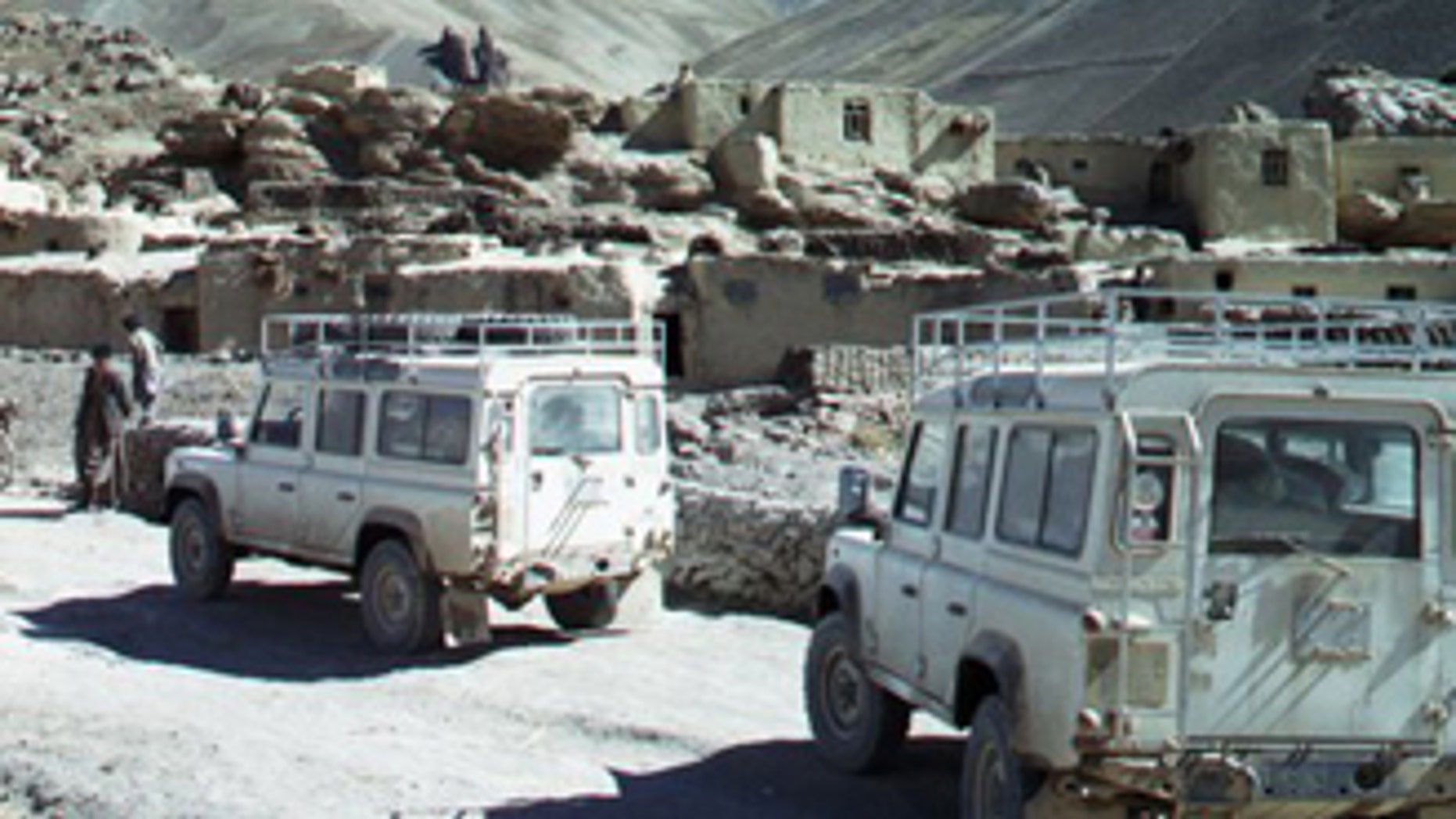 The bodies of eight foreign doctors killed in the remote forests of northern Afghanistan were flown back to Kabul by helicopter Sunday, the U.S. embassy said.
"The bodies of the medical aid team killed in Badakhshan were retrieved and returned to Kabul via helicopter around midday today," embassy spokeswoman Caitlin Hayden said in an emailed statement, adding that U.S. consular staff, FBI special agents, Afghan authorities and U.K. and German embassy officials were working to identify the victims, describing the incident as a "tragic attack."
The bullet-riddled bodies of five men, all Americans, and three women -- an American, a German and a Briton -- were found Friday in the northeastern province of Badakhshan, according to provincial police. Two Afghans were also killed in the attack, and one survived.
The team of volunteer medics were returning with their driver from a medical camp in neighboring Nuristan province when they were attacked, according to the director of their aid organization, the Kabul-based International Assistance Mission.
Taliban spokesman Zabiullah Mujahid told the AP that they killed the foreigners because they were "spying for the Americans" and "preaching Christianity." In a Pashto language statement acquired by the AP, the Taliban also said the team was carrying Dari language bibles and "spying gadgets."
"This tragedy negatively impacts our ability to continue serving the Afghan people as IAM has been doing since 1966," the charity said in a statement. "We hope it will not stop our work that benefits over a quarter of a million Afghans each year."
The Christian aid group denied the Taliban accusations that its foreign medical workers had been proselytizing.
"The accusation is completely baseless, they were not carrying any bibles except maybe their personal bibles," Dirk Frans, the executive director of IAM, told Reuters.
"As an organization we are not involved in proselytizing at all," he said.
Frans also said that he was skeptical the Taliban were responsible. He said the team had studied security conditions carefully before continuing with the mission.
"We are a humanitarian organization. We had no security people. We had no armed guards. We had no weapons," he said.
Among the dead was team leader Tom Little, an optometrist from Delmar, New York, who has been working in Afghanistan for about 30 years and spoke fluent Dari, one of the two main Afghan languages, Frans said. Little, along with employees from other Christian organizations, were expelled by the Taliban government in August 2001 after the arrest of eight Christian aid workers — two Americans and six Germans — for allegedly trying to convert Afghans to Christianity.
He returned to Afghanistan after the Taliban government was toppled in November 2001 by U.S.-backed forces. Known in Kabul as "Mr. Tom," Little supervised a network of IAM eye hospitals and clinics around the country largely funded through private donations.
"He was a remarkable man, and very committed to helping the people of Afghanistan," said David Evans of the Loudonville Community Church, New York, who accompanied Little on a 5,231-mile road (8,419-kilometer) trip to deliver the medical team's Land Rover vehicles from England to Kabul in 2004.
"They raised their three girls there. He was part and parcel of that culture," Evans said.
Little had been making such trips to Afghan villages for decades, offering vision care and surgical services in regions where medical services of any type are scarce.
The work has long been fraught with risk, but Evans said Little was a natural for the job. He spoke the language, knew the local customs, and had the patience and diplomatic skills to handle sticky situations.
Another relief organization, Bridge Afghanistan, said on its website that the group included one of its members, Dr. Karen Woo, who gave up a job in a private clinic in London to do humanitarian work in Afghanistan. A message posted last March on the Bridge Afghanistan website said she was "flat broke and living in a war zone but enjoying helping people in great need."
In a fundraising blog posted last month, Woo said the mission to Nuristan would require hiking with pack horses through mountains rising to 16,000 feet (5,000 meters) to reach the Parun valley, a harsh, isolated area about 9,500 feet (3,000 meters) above sea level where an estimated 50,000 people eke out a primitive existence as shepherds and subsistence farmers.
"The expedition will require a lot of physical and mental resolve and will not be without risk but ultimately, I believe that the provision of medical treatment is of fundamental importance and that the effort is worth it in order to assist those that need it most," she wrote.
"The area ... we will reach is one of great harshness but of great beauty also. I hope that we will be able to provide medical care for a large number of people."
Insurgent attacks on aid workers is nothing new, however.
In 2007, 23 South Korean aid workers from a church group were taken hostage in southern Afghanistan. Two were killed and the rest were later released. In August 2008, four International Rescue Committee workers, including three women, were gunned down in Logar province in eastern Afghanistan.
In October 2008, Gayle Williams, who had dual British and South African citizenship, was killed by two gunmen on a motorcycle as she walked to work in the capital of Kabul. In late 2009, a French aid worker was kidnapped at gunpoint in the Afghan capital. Dany Egreteau, a 32-year-old worker for Solidarite Laique, or Secular Solidarity, who was seen in an emotional hostage video, was later released after a month in captivity.
The Associated Press, Reuters and AFP contributed to this report.