Berlusconi's Top Aide: Premier Won't Quit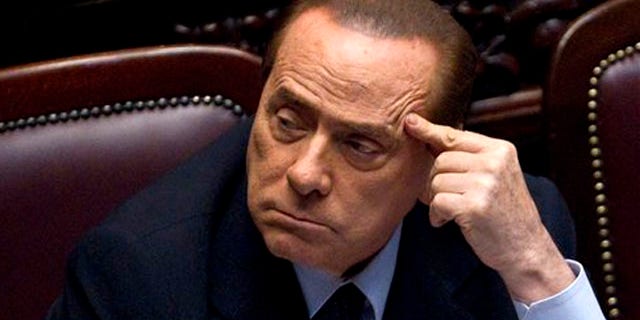 ROME -- Italian Premier Silvio Berlusconi has no desire to quit despite a sex scandal, his top aide said Sunday.
Angelino Alfano, who has been tapped by Berlusconi as his political heir, told a rally in northern Italy their conservative party still supports him. He added "the premier has no desire to resign."
Berlusconi insists he will stay until elections in spring 2013. But the ally keeping him in power, Northern League leader Umberto Bossi, has called that date "too far" away. Bossi's No. 2, Roberto Maroni, told a separate political rally Sunday that League will stay in the government "as long as Bossi says so."
Italian media have been full of steamy details about Berlusconi's private parties for attractive young women, including the media mogul's reportedly saying he's a "spare time" premier.
Most of the details have emerged from transcripts of intercepted phone conversations between Berlusconi and a southern Italian businessman who is under investigation for allegedly recruiting prostitutes for the premier's private parties. Berlusconi, who isn't under investigation in that probe, has denied ever paying for sex.
Opposition politicians over the weekend renewed calls for the premier to step down, insisting that all the attention over Berlusconi's sex life was hurting Italy's image in the world and questioning the premier's ability to concentrate on pulling Italy safely out of financial crisis.
On Sunday, at least one prominent figure in Berlusconi's Freedom People's party, Defense Minister Ignazio La Russa, ventured that he felt uneasy with some of the content of the often coarse conversation.
"I don't hide that there are moments of feeling uncomfortable" by some of the revelations in the probe, La Russa told reporters. He added that "some times I don't like the content." Still, he said he was upset by the invasion of privacy.
"It is incredible in this country that no one can be sure of being able to talk privately," the minister said. He also came to the defense of Berlusconi for the "spare time" comment, saying "you don't have to be a genius to know that it was an ironic, sarcastic phrase."