Before fatal crash, woman sent text: 'driving drunk ... I'll be dead thanks to you'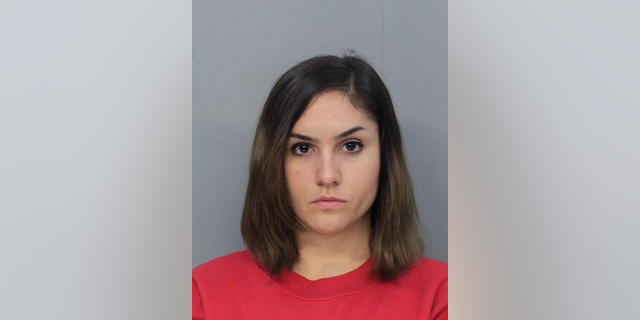 Just minutes before she plowed through a red light and caused an accident that left her friend dead, a Florida woman texted her boyfriend, "Driving drunk woo ... I'll be dead thanks to you."
The driver, Mila Dago, survived the August 2013 crash, but has been charged with DUI manslaughter for the crash that caused the death of her friend and passenger Irina Reinoso.
Dago was out on the town in Miami the night the accident occurred, where she was trying – and seemingly failing – to deal with breaking up with her boyfriend. Over the course of the night, the woman sent around 60 texts to her ex-boyfriend, including some that police say seem chilling in light of that evening's events.
"I'm done you ruined me … you'll be the death of me," Dago wrote, according to the New York Daily News.
Dago sent the fateful "driving drunk" while cruising in a rented Smart Car just three minutes before she ran the red light, smashing into a moving pickup truck at 4:44 a.m and instantly killing Reinoso.
The driver of the truck, Benjamin Byrum, 51, was knocked unconscious.
"The Smart Car is what saved me," Byrum told the Miami Herald. "If it had been anything bigger, I would have been in trouble."
Dago, who left the scene with only minor bruises, was tested two hours after the accident with a blood alcohol level more than double the legal limit for driving. The 24-year-old has pleaded not guilty to DUI manslaughter, vehicular homicide and two counts of DUI with damage to a person.
"Ms. Dago, who, with her family, prays every day for the young woman who passed and her family, believes it is disrespectful to the young woman's family to publicly comment," said her defense attorney, David Rothman.
Along with Dago's criminal trial, Reinoso's family has also filed a civil suit against her and the mobile rental company Car2Go.
At the time of her death, Reinoso was a student at Miami-Dade College and hoped to enter law enforcement.
"She was very family oriented, had an incredible heart and always had a smile on her face," her mother, Ivania Reinoso said.
Like us on Facebook
Follow us on Twitter & Instagram