Beatles album collage sells for $87,720 at auction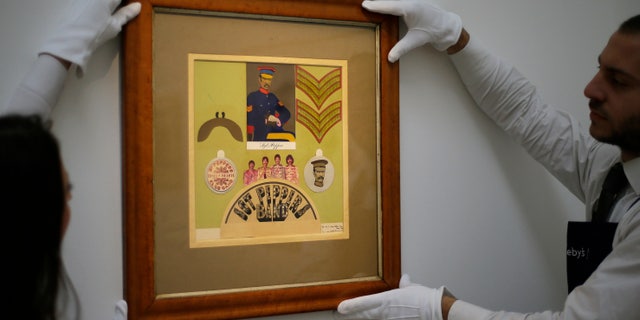 LONDON – Sotheby's says an original piece of artwork from the Beatles' "Sgt. Pepper's Lonely Hearts Club Band" album has fetched $87,720 (55,250 pounds) at an auction.
The auction house said the original 1967 collage for the insert to the album sold to a bidder in London on Tuesday.
The sale marked the first time the collage by Sir Peter Blake was on the market.
The auction house said Blake was introduced to the Beatles by his dealer, and that he and his wife worked closely with Paul McCartney and John Lennon to create the imagery of the "Sgt. Pepper."
Sotheby's said the collage was sold from the collection of architect Colin St. John Wilson.
The auction house had estimated that the piece would sell for between 50,000 and 80,000 pounds.