Authorities blame faulty construction for Ghana building collapse that left at least 4 dead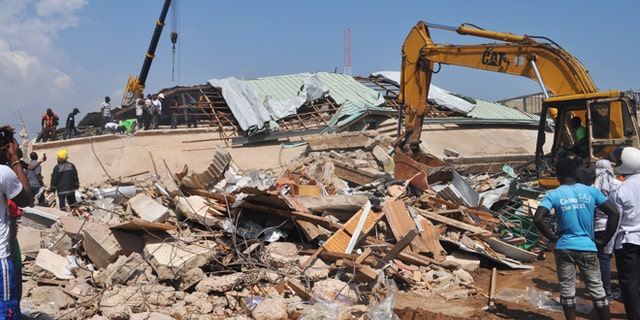 ACCRA, Ghana – Authorities on Thursday blamed faulty construction for the collapse of a five-story building in Ghana's capital that killed at least four people and trapped dozens of others until they were freed by crews picking through broken concrete with axes.
The five-story structure housing a popular home goods store crumbled early Wednesday, just nine months after it was built in a working-class neighborhood.
Kate Adobaya, a spokeswoman for Ghana's National Disaster Management Organization, blamed the building collapse on structural weakness.
"The foundation was not good enough," she said, adding that crews worked in shifts through the night to search for other possible victims.
President John Dramani Mahama toured the scene Wednesday and told reporters those responsible for the building's collapse would be punished.
The building was being leased by Melcom Ltd., but the retail company did not construct the building, according to the chief operating officer of Melcom Group of Companies.
Arvinder Singh said he wanted to be "very, very, clear" that the property was being rented.
Ghanaian Information Minister Fritz Baffour says four people are confirmed dead. Accra's mayor, Alfred Oko Vanderpuiye. said Thursday that 68 people had been pulled from the rubble.
An 18-man team from Israel was expected in Accra later in the day to help locate any remaining survivors.
"The team will make an initial assessment of the site using special equipment and sniffer dogs that will help identify the locations of possible survivors or corpses," according to a statement signed by the president's spokesman.