Australian lawmaker won't apologize for ad suggesting he shot his rivals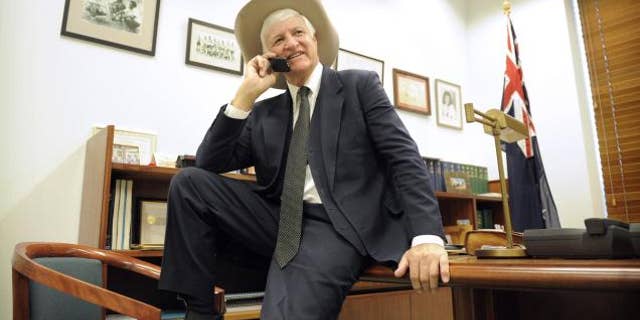 NEWYou can now listen to Fox News articles!
An Australian lawmaker is being criticized for a campaign ad suggesting he shot dead two political rivals that was posted online days after the worst mass shooting in modern U.S. history.
Independent candidate Bob Katter is making no apologies for his 58-second ad, which resembles a Western film parody and ends with him blowing smoke from a revolver barrel as two men lie spread eagle in the Outback dust.
The men, wearing stockings over their faces and shirts emblazoned with the names of Australia's two major political parties, had erected a sign advertising "Australia for Sale." The online ad ends with Katter's anti-foreign investment slogan: "Australia is 'NOT' for Sale."
Prime Minister Malcolm Turnbull, who leads a conservative coalition government, condemned the ad that is running ahead of general elections on July 2.
"The advertisements were in the worst of taste and Mr. Katter should apologize and withdraw them," he told reporters Thursday in Sydney.
But the Outback lawmaker, known for wearing a broad-brimmed felt hat to Parliament House and widely referred to as "Mad Bob Katter," described the ad as "screamingly funny" and dismissed criticisms as "political correctness."
He said the ad had been finalized more than a week earlier and suggested by Thursday he still had not heard about the weekend shooting by a lone gunman at an Orlando, Florida, nightclub in which 49 were killed.
"I don't know what's going on in the media," he told Seven Network television.
Katter's gay half-brother, Carl Katter, who is a candidate for the center-left Labor Party, also condemned the ad.
"It's a total disregard for the loss of lives that we saw in Orlando recently, which is still having a huge impact on my community which is the LBGTI, but also the greater community," Carl Katter told Australian Broadcasting Corp., referring to lesbian, gay, bisexual, transgender and intersex people.