Australian champion bodybuilder ID'd as home intruder who died after altercation with resident, reports say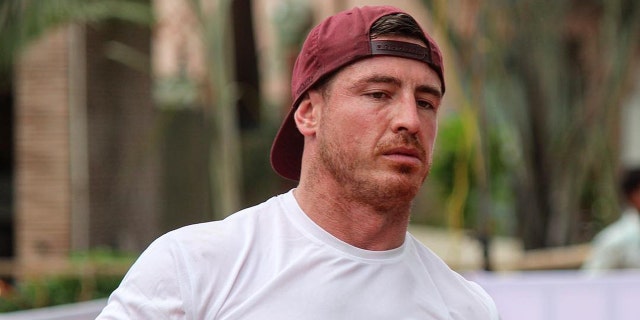 A champion bodybuilder was killed Sunday morning after he reportedly broke into a stranger's home in Australia and got into a physical altercation with a resident.
Bradley Soper, 34, was pronounced dead following the incident about 7:30 a.m. Sunday at the home in Harrington Park in southwest Sydney, news.com.au reported.
AUSTRALIAN SENATOR APOLOGIZES FOR WIPING HIS OWN BLOOD ON FELLOW LAWMAKER'S DOOR AFTER SCUFFLE IN PARLIAMENT
According to police, Johan "Francois" Schwartz, 44, woke up Sunday morning to the sound of his dogs barking. He went to investigate the noise and found a home intruder in his living room, New South Wales Police Force said in a statement. A "physical confrontation" ensued that led to the intruder losing consciousness. Neighbors were called to the scene to help administer CPR before paramedics arrived. Despite their efforts, the intruder was pronounced dead at the home.
Residents in the area told news.com.au that they saw a man who was barefoot and walking "like a zombie" through the wooded area before the botched home invasion.
Police did not identify Soper in their news release, but local reports on Monday said Soper was the intruder killed. It's unclear why Soper was in the area or at the home.
Soper is a bodybuilder who competed internationally and named Asia's strongest man under 198 pounds in 2017, news.com.au reported. He ran a personal training business called School of Strong and described himself as having "over 12 years of experience as a strength and conditioning coach, personal trainer and athlete."
Soper's friends said Sunday morning's incident was out of character for the personal trainer.
"No, he's a big teddy bear," Peter Tsikas, a personal trainer who was friends with Soper, told Australia Broadcasting Corporation (ABC). "He's big and strong but he always loved people, so that's what doesn't seem right.
"He was a kind man, he always looked after everyone else first," he added. "It doesn't make sense and that's why we're trying to put the pieces together because we don't know what's happening — it just doesn't seem right."
CLICK HERE TO GET THE FOX NEWS APP
Soper was reportedly dealing with health and personal issues prior to his death. He was in the hospital for kidney failure and had recently gone through a rough breakup with his girlfriend, ABC reported. He was also reportedly dealing with cocaine addiction and had financial struggles.
Schwartz was questioned on Sunday after the deadly altercation and released pending further investigation into the incident. NSW police urged anyone with information on the incident to come forward.