At least 80 people missing in Canada train inferno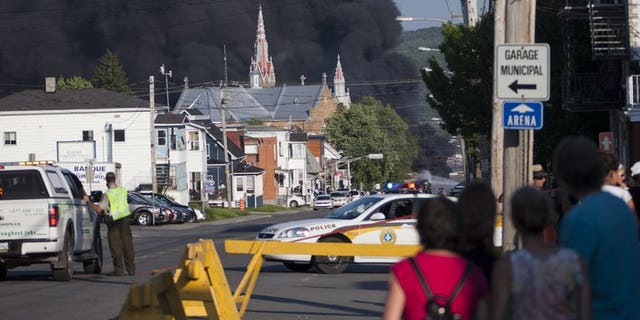 MONTREAL (AFP) – At least 80 people are missing in the small Canadian town of Lac-Megantic after a freight train loaded with oil derailed and burst into flames, a firefighter returning from the scene told AFP.
"There were at least 50 people in the bar. There is nothing left," the firefighter said on condition of anonymity. Several other buildings were destroyed in the town located 250 kilometers (155 miles) east of Montreal, on Saturday.
The accident created a spectacular fireball, witnesses said, and forced 2,000 people from their homes.
The flames were still not under control hours later in Lac-Megantic, near the US border and state of Maine.
Witnesses reported as many as six major explosions during the night. Michel Brunet, a spokesman for Quebec's provincial police said at least one person was killed and a second was injured in the incident.
But Radio-Canada reported some 60 people were unaccounted for in Lac-Megantic, a picturesque resort town of 6,000 residents.
"There have been several reports" from people who said they were unable to reach relatives who lived near the accident site, Brunet said.
"The fire is still raging, our investigators have not yet even be able to get close to the scene," Brunet added, more than 12 hours after the train went off the rails at around 1:20 am (0520 GMT).
An initial evacuation zone of a kilometer around the crash site was widened Saturday afternoon as a precaution against harmful particles in the air, bringing the total to 2,000 people forced to leave their homes.
Some 150 firefighters were battling the blaze, including some who came across the border from Maine, just 25 kilometers south of the town.