At least 13 dead in bombing at protest rally in Pakistan, police say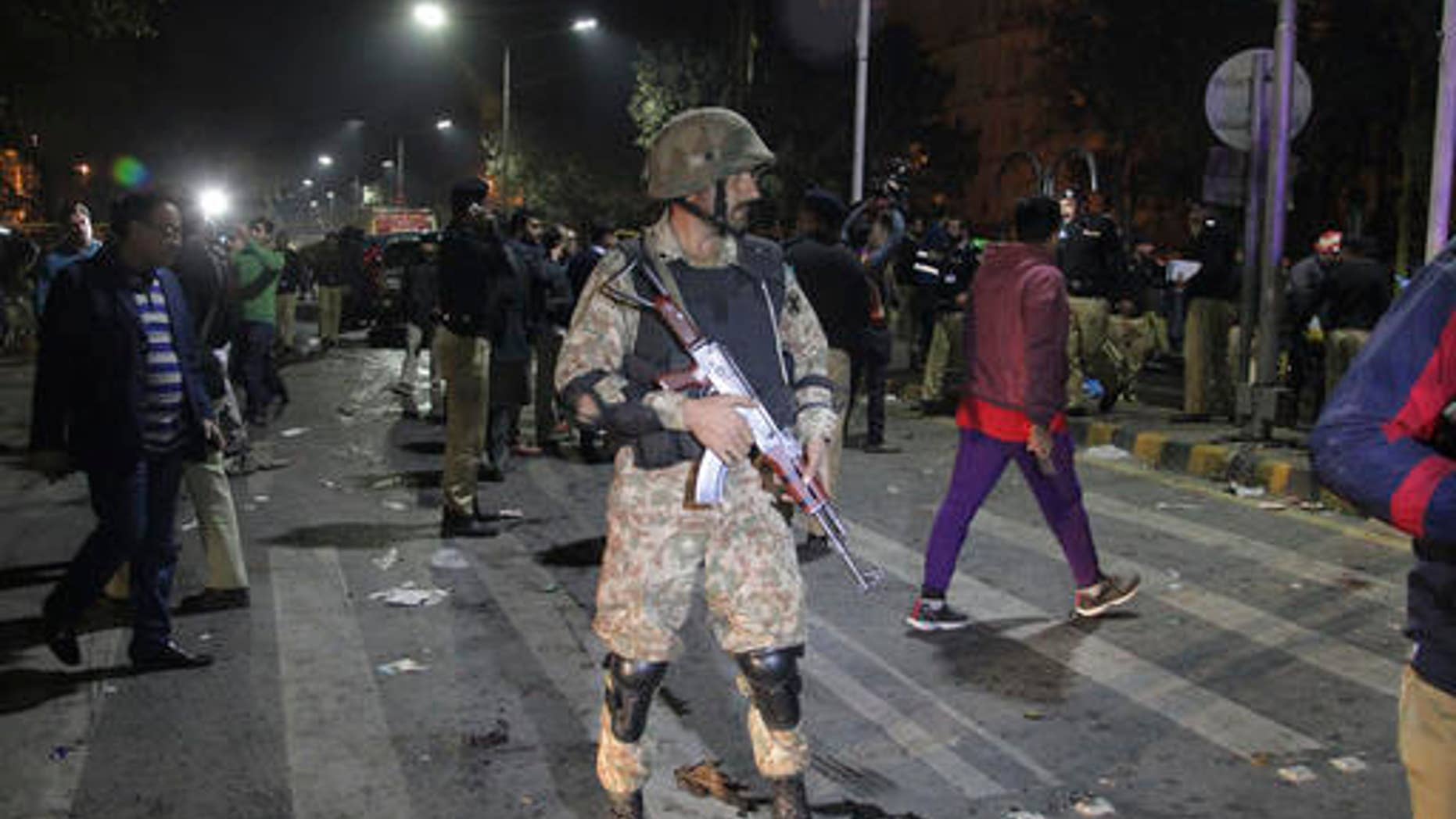 At least 13 people were killed and 58 others wounded Monday after a large bomb exploded at a protest rally in eastern Pakistan, an attack for which a Taliban faction claimed responsibility.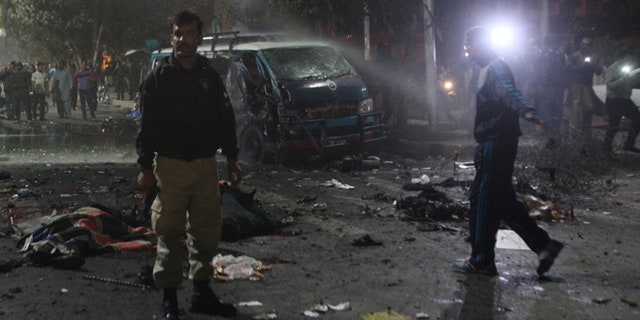 BRITISH WOMAN FIGHTING ISIS SAYS SHE COULD HELP 'FINISH' THE TERRORISTS
The bombing in Lahore unfolded less than a year after an Easter 2016 attack targeting Christians there killed as many as 70 people.
Six police officers, including a former provincial counterterrorism chief, were among those killed Monday, police said. Investigators initially said the attacker was on a motorcycle, but provincial Law Minister Rana Sanaullah later said that closed-circuit footage revealed the bomber was on foot.
ISIS FIGHTER BECOMES FIRST STRIPPED OF AUSTRALIAN CITIZENSHIP
"We just couldn't understand what happened," Tufail Nabi told local Geo News TV. "It was as if some big building collapsed," he said as he limped away.
A Taliban splinter group called Jamaat-ul-Ahrar claimed the attack in a text message, saying it was revenge for Pakistani military operations against Islamic militants in tribal regions along the Afghan border.
Pharmacists and drug manufacturers organized the protest, Reuters reported, citing local media. They were calling out new amendments to a law governing drug sales.
The pharmacists reportedly were holding a sit-in at the time.
Live TV broadcast a loud bang and showed smoke billowing up as people ran away, some of them carrying the wounded. Cars near the blast site caught fire as thick smoke filled the air.
Two senior police officers, including a former provincial counterterrorism chief, were among those killed, Abbas added.
Jamaat-ul-Ahrar is one of several splinter groups from the Pakistani Taliban, which has carried out scores of attacks against security forces and religious minorities. In recent years, Pakistan has had launched several offensives against the Taliban and other Islamic militant groups in the tribal regions.
Washington condemned the Lahore attack and extended condolences to the victims and their families. "We stand with the people of Pakistan in their fight against terrorists and remain committed to the security of the South Asia region," State Department spokesman Mark Toner said.
Elsewhere in Pakistan, a roadside bomb killed two members of a bomb disposal squad on the outskirts of the southwestern city of Quetta, said police officer Abdur Razzaq Cheema. Another eight people were wounded in the explosion, he said. A Taliban-linked group, Lashkar-e-Jhangvi, said it planted that bomb.
The Associated Press contributed to this report.