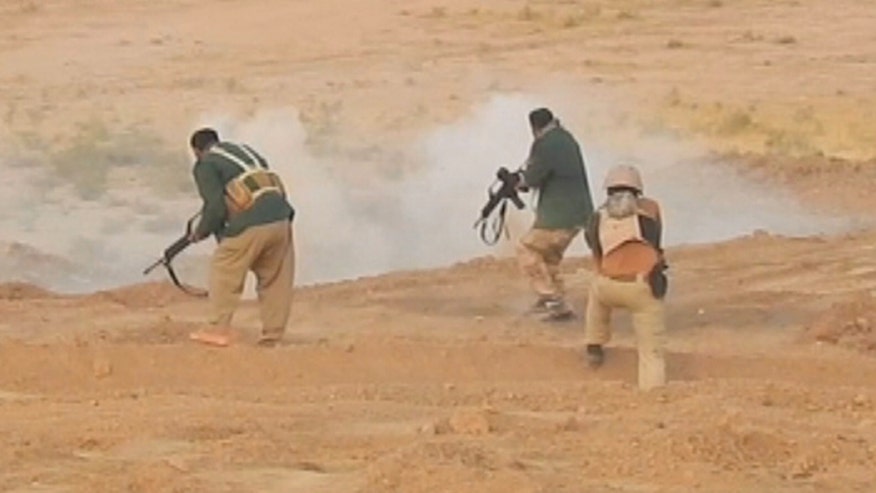 A graduate believed to be the first British woman to join the fight against the Islamic State in Syria says she sees her comrades as "a last step towards [ISIS] being finished".
UK'S MOVE TO LIMIT LONE CHILD REFUGEES DRAWS BACKLASH
Kimberley Taylor, 27, left the UK in March 2016 and joined the Women's Protection Units (YPJ) - the all-female brigade of the YPG, Syria's Kurdish armed forces.
Based in Rojava, a Kurdish autonomous region in northern Syria, Ms Taylor said she has been on the frontline in the push towards ISIS' stronghold Raqqa.
IRAN CHEERS 1979 REVOLUTION; PRESIDENT CALLS TRUMP WHITE HOUSE 'A PROBLEM'
In an exclusive interview with Sky News, Ms Taylor said she believes the YPG's operation against militants could "finish" the Islamic State.
She said: "For this reason it is really important that we create diplomacy…that we take a chance now that everybody is listening to tell our ideology, to tell our revolution."
Ms Taylor, from Blackburn, says she initially traveled to Syria to write about "the women's revolution" but decided to stay after just three days.
Four months later she joined the YPJ, learned Kurdish and studied politics, warfare and battlefield tactics.
Ms Taylor says she also learned "how to be a revolutionary".
She said: "When I came to Rojava I realised the practice of being a revolutionary and I think this is something we should definitely learn in the West.
"We lack practice of being revolutionaries, we lack practice of trying to change society. For people that believe in revolution, they need to come to Rojava."