At least 10 dead, 700 hurt after clashes along Israel-Gaza border
The death toll following clashes between Palestinians and Israeli troops in several locations along the Israel-Gaza fence Friday rose to 10.
The Palestinian Health Ministry said more than 700 people were hurt in the clashes that saw Israeli soldiers firing live fire, rubber-coated steel pellets or tear gas fired, but did not provide the breakdown.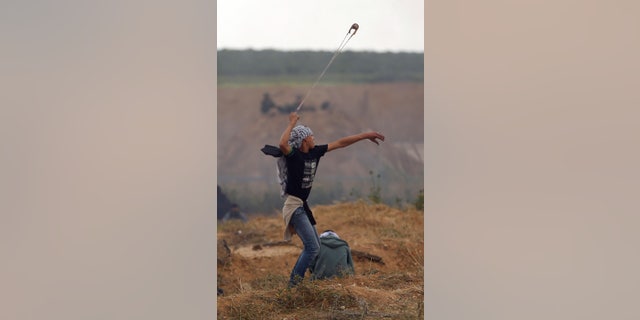 Witnesses said hundreds of Palestinians participated in the clashes and the Israeli military said some of those protesters rolled burning tires and threw stones at forces stationed at the border. It said troops opened fire at the "main instigators."
Thousands of Gaza residents streamed to five tent encampments, each located near the border, and, from there, large crowds marched to the fence.
Israel's military said ahead of the protests it doubled its standard troop level along the border, deploying snipers, special forces and paramilitary border police units, which specialize in riot control. The military said it would not allow the crowds to breach the fence or damage military infrastructure.
On Friday, mosques across Gaza called on Palestinians to join the protests. Buses took protesters to the border area, and, by noon, thousands had arrived at the encampments.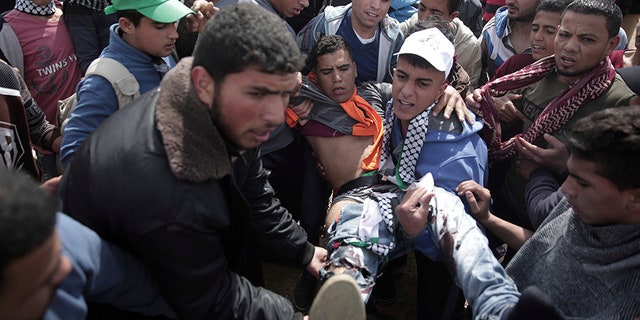 Hamas spokesman Fawzi Barhoum praised the turnout.
"The large crowds...reflect the Palestinian people's determination to achieve the right of return and break the siege and no force can stop this right," he said.
The sit-ins are seen as a new attempt by Hamas to break a crippling, decade-old Gaza border blockade by Israel and Egypt that's made it increasingly difficult for the Islamic militant group to govern.
Other tactics over the years, including cross-border wars with Israel and attempts to reconcile with political rival Mahmoud Abbas, the West Bank-based Palestinian president, have failed to end Gaza's isolation.
Friday's actions are to be the first in a series of protests planned in Gaza in the coming weeks. The activities are set to culminate on May 15, the 70th anniversary of Israel's creation.
Fox News' Ibrahim Hazboun and the Associated Press contributed to this report.