As North Korea threat looms, US Navy tests ballistic missile shootdown capability
More than a dozen NATO warships participated in the successful shoot-down of a ballistic missile target near Scotland on Sunday, the latest such test of defensive measures amid North Korea's advancing nuke and missile programs.
The live-fire exercise included 14 NATO warships, according to a statement from the U.S. Navy. During the maneuver, USS Donald Cook, an Arleigh Burke-class guided-missile destroyer, successfully "detected, tracked and intercepted a medium-range ballistic missile target with a Standard Missile-3 Block IB guided missile," the statement said.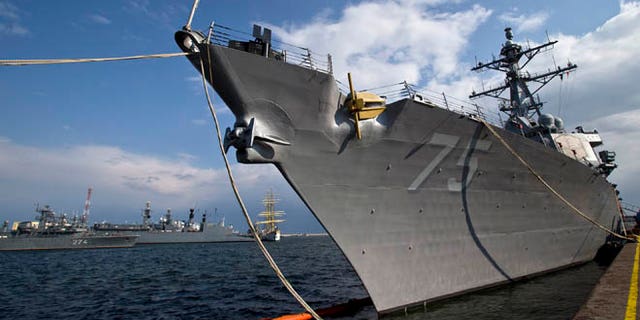 In addition to the U.S., ships from Canada, France, Germany, Italy, the Netherlands, Spain and the United Kingdom also participated in the live-fire defense test.
"I am extremely proud of the Task Group members and their performance during these complex, live-fire engagements," Capt. Shanti Sethi, commander, Task Group IAMD for Formidable Shield, and Commander, U.S. 6th Fleet's Task Force 64, said in a statement. "The exercise scenarios are designed to test our limits and give us a unique opportunity to truly practice how we would fight together as an alliance. We are coordinating and sharing information in real time the way we would in a real IAMD operation."
The test comes after several successful North Korean missile launches and nuke tests, and amid the Hermit Kingdom's stated goal to possess a nuclear-tipped ICBM.
After it's first ICBM flight in July, Pyongyang said the missile was the "final step" in creating a "powerful nuclear state that can strike anywhere on Earth."
In addition, North Korea conducted its sixth and most powerful nuclear test in September. The test, which the country claimed was a hydrogen bomb, has reportedly destabilized the Punggye-ri region, where nuclear tests have been conducted.
Despite tough talk from President Trump, Secretary of State Rex Tillerson said on Sunday diplomatic efforts with North Korea would continue until the "first bomb drops."