Argentina rights group leader has private meeting with grandson lost in 'dirty war'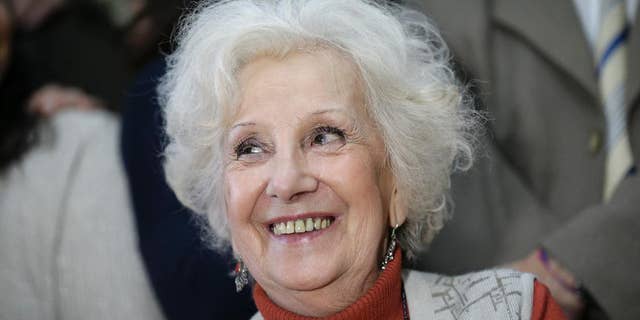 BUENOS AIRES, Argentina – A prominent human rights activist in Argentina has finally met the grandson taken by the military during the country's so-called dirty war in the 1970s.
Estela Barnes de Carlotto met privately with the now 36-year-old man she refers to as Guido, the name her slain daughter intended to give him.
De Carlotto is revealing little publicly about the meeting. The rights organization she founded urged the media Thursday to respect the man's privacy.
De Carlotto is the founder of the Grandmothers of the Plaza de Mayo. The group has pushed for years to find hundreds of children taken from pregnant women executed by the military.
The 83-year-old woman met with her grandson on Wednesday, a day after she learned that DNA had confirmed his identity after a long search.