Argentina fires head of navy after submarine disappearance
Argentina fired the head of its navy Saturday in the first disciplinary action after one of its submarines vanished with 44 crew members aboard last month.
The firing of Navy Admiral Marcelo Srur by Defense Minister Oscar Aguad came as authorities continue to investigate what happened to the ARA San Juan, which disappeared Nov. 15 after reporting a fire on board.
"It was decided to remove him," a government spokesman told Reuters.
An internal navy investigation into the incident also led to the suspension of two commanders this week.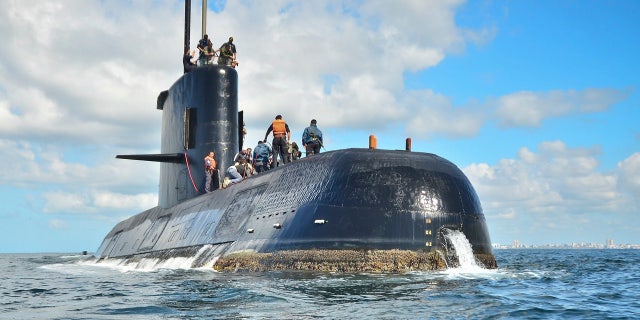 The navy has said the vessel's captain reported water entered the snorkel and caused one of the submarine's batteries to short circuit on Nov. 15.
The captain later communicated by satellite phone that the problem had been contained, the navy said. Some hours later, an explosion was detected near the time and place where the San Juan was last heard from.
RESCUE MISSION FOR ARGENTINE SUBMARINE CREW ENDS, SEARCH FOR SUB CONTINUES
The navy is no longer looking for survivors, although a multinational operation, including Russian and U.S. ships, continues to search for the vessel. The Argentina Navy said bad weather conditions were complicating search efforts Sunday, as British and Argentinian vessels continue to sweep the seabed with sonar in hopes of finding the sub, state news agency Telam reported.
The ARA San Juan was sailing from the southernmost port of Ushuaia to the coastal city of Mar del Plata when it vanished.
Relatives of the missing crew claimed the government had put their loved ones in harm's way because the vessel is more than 30 years old. The German-built TR-1700 class submarine was commissioned in the 1980s and was most recently refitted between 2008 and 2014. It was built by a subsidiary of Germany's ThyssenKrupp that is no longer operational.
ARGENTINA SUBMARINE CHASED BY BRITISH HELICOPTER BEFORE VANISHING, SAILOR'S SISTER CLAIMS
One of the doomed vessel's sailors told his sister in a "strange" message that was one of the last sent from the sub that it was being chased by a British helicopter and Chilean ship shortly before disappearing.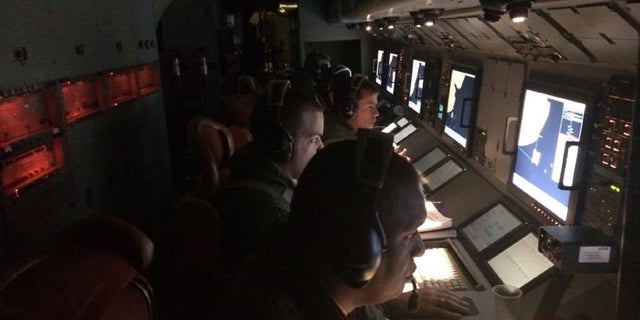 The sister's account, made public Wednesday, was immediately blasted by Argentinian military officials as "completely untrue." But Jessica Medina, whose brother Roberto Daniel Medina served aboard the sub, told Argentina's La Gaceta newspaper in an exclusive interview that she received the message on WhatsApp just days before the vessel vanished Nov. 15.
"It was that weird message in which he told us he was looking for a British helicopter and a Chilean ship, but unfortunately we did not continue with that conversation; he stayed there. That was the last message," she said. In his messages, the sister said her brother told her the ARA San Juan was sailing close to the Falklands -- referred to as Malvinas by Argentina -- on Nov 3.
The Associated Press contributed to this report.