AP Explains: Nicaragua pension changes ignite fiery protests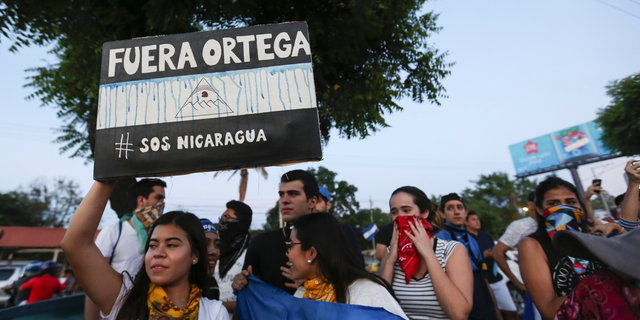 MANAGUA, Nicaragua – THE PROTESTS
Nicaragua has been rocked by a week of protests in which over two dozen people have been killed. The protests quickly spread nationwide, with scenes of massive rock throwing, burning barricades, tear gas and some gunfire. The dead included a journalist shot to death while transmitting live on social media. Dozens of shops were looted in Managua, the capital of this Central American nation of 6 million.
___
THE PENSION DECREE
The protest movement started when the Sandinista government of President Daniel Ortega issued a decree on April 16 increasing income and payroll taxes and changing pensions to try to shore up Nicaragua's troubled social security system.
Payroll contributions from workers for the pension scheme would have increased from 6.25 percent to 7.25 percent. Companies would have been hit harder, with employer payroll contributions increasing from 19 to 21 percent, and subsequently to 22.5 percent after 2022. Retirees currently receiving pensions would have had to pay 5 percent of their checks for medical care.
___
OLD GRIEVANCES
While the pension changes would have affected workers' paychecks, it also appears the demonstrations expanded to include broader anti-government grievances.
Ortega's decree seemed to unleash pent-up frustrations that have long been brewing in Nicaragua, where the government has acted with a heavy hand in pushing the Ortega family's agenda while quelling protests, often violently and sometimes in tandem with government supporters.
Nicaraguan opposition leaders and civil society groups also accuse Ortega of manipulating elections to stay in power and of wanting to create a family dynasty by making his wife, Rosario Murillo, his vice president.
Protests also arose after the government fast-tracked legislation in 2013 granting Hong Kong-based HKND a 50-year concession, renewable for another 50, to build and operate a trans-oceanic canal across Nicaragua in return for a payment of $10 million a year once it's up and running. The law lets HKND develop ancillary projects — ports, an airport, roads, a railway — even if the canal doesn't get built.
___
WHAT NOW
On Sunday, Ortega said the government would withdraw the pension changes and called for negotiations on a new solution to the problem. But he rejected demands to free detained protesters, withdraw the police and lift some censorship.
But the protests, and police attacks on them, at least initially continued: One student was killed and four injured at a Managua university late Sunday.
Business groups called another protest for late Monday.