Analysis: Israeli leader's coalition gambit under criticism from Israelis and Palestinians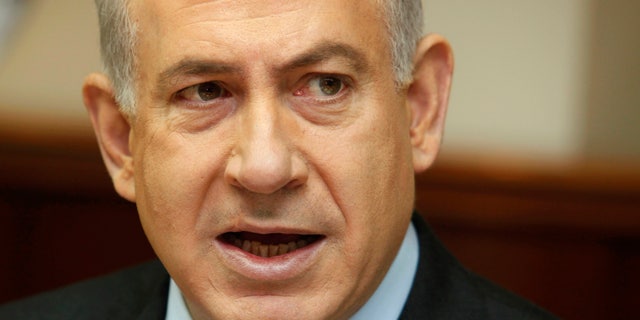 JERUSALEM – Prime Minister Benjamin Netanyahu's decision to bring a dovish rival into his Cabinet appears to be backfiring, drawing heavy criticism both in Israel and from the Palestinians and suddenly complicating the task of forming a viable coalition government, to the point where rivals are openly threatening to force new elections.
It is now uncertain whether Netanyahu will meet an initial deadline next week for forming a new coalition, and it is possible that he will fail altogether and the task will be assigned to a rival, most likely former TV anchorman Yair Lapid, a new political star who heads the centrist Yesh Atid party.
Rivals are also openly talking about the possibility of forcing new elections, just a month after a parliamentary election ended in virtual deadlock.
Polls Friday suggested that if repeat elections were held, Lapid, an amateur boxer, novelist and former actor who has never held public office, might be elected prime minister.
Netanyahu has been scrambling to build a majority coalition in parliament since the Jan. 22 election. As leader of the largest faction in parliament, Likud-Yisrael Beitenu, he has been charged with the responsibility for forming a new government. But with just 31 seats under his control, he is far short of the 61-seat majority, out of a total of 120 seats in parliament, needed for a coalition.
The array of rightist and religious parties considered Netanyahu's natural allies did eke out 61 seats in the Jan. 22 election — but that informal alliance has long been strained over a host of internal disagreements and it is showing signs of collapse. That has forced Netanyahu to look elsewhere, outside of his political comfort zone.
This week, the hawkish leader seemed to find an unlikely new ally, announcing his first coalition deal with former Foreign Minister Tzipi Livni, appointing her justice minister and chief negotiator with the Palestinians.
The appointment was meant to signal that Netanyahu, who has come under heavy criticism internationally for the past four years of deadlock in Mideast peace efforts, is preparing to take a softer line toward the Palestinians in his new term. Livni is a former peace negotiator who has a good relationship with the Palestinian leadership and who is well respected internationally. The alliance also was meant to pressure other potential coalition partners to join him.
So far, Netanyahu's gambit appears to be missing out on both counts. The appointment is generating little excitement, and Livni, who campaigned on a platform almost exclusively pushing for peace with the Palestinians, has been accused of selling out to the hardline Netanyahu.
Livni's new political party, "The Movement," won just six parliamentary seats in last month's election. Critics said that after spending the past four years lambasting Netanyahu's policies, Livni appears desperate.
"Tzipi Livni is no less trustworthy or cynical than other politicians who broke their word, bent over backwards, put away their slogans and election speeches and galloped into the arms of the one they had described as the mother of all sin," wrote commentator Yossi Verter in Haaretz newspaper.
Livni has said she thinks being inside the government gives her the best chance to influence policy.
The Palestinians, meanwhile, have accused Livni of becoming a "fig leaf" for Netanyahu. Officials said that unless he changes his policies, particularly continued settlement construction in the West Bank and east Jerusalem, there is no hope for progress.
Nabil Shaath, a senior Palestinian official, said Netanyahu brought on Livni to "give the impression that he is serious about peace" ahead of a visit next month by President Barack Obama.
"We know very well that Livni has a good image in the international community, and now Netanyahu is using her in order to improve the image of Israel," he said. "I know very well that Livni as a person wants peace, but at the end the decision is not hers. The decision is up to Netanyahu and his inner Cabinet."
During his previous term, the Palestinians refused to negotiate with Netanyahu while Israel continues to build Jewish settlements in the West Bank and east Jerusalem. The Palestinians claim both areas, captured by Israel in the 1967 Mideast war, for a future state. The Palestinians also want Israel to accept the 1967 prewar lines as the basis for a future border.
Netanyahu has rejected these demands, saying talks should begin without any preconditions. But the international community has shown growing impatience with him.
In November, the U.N. General Assembly recognized a Palestinian state in the lands captured by Israel in 1967. The decision, while symbolic, marked an overwhelming international endorsement of the Palestinian position on borders. When Israel responded by announcing plans for new settlements, it came under fierce international condemnations.
Livni, who served as Israel's chief negotiator under former Prime Minister Ehud Olmert from 2006-2009, takes a far softer line toward the Palestinians. But there are already indications that Netanyahu will keep her on a short leash.
According to the text of the coalition agreement obtained by The Associated Press, Netanyahu will be responsible for outlining the terms of the negotiations. While Livni will manage the negotiations, a representative of the prime minister will be present in every meeting she runs.
Gilad Erdan of Netanyahu's Likud party played down Livni's role in peace talks with the Palestinians to Channel 2 TV on Friday. "She is not in charge of negotiations but rather part of a team of ministers that will of course be led by the prime minister. I think it is obvious to everybody that the prime minister is the one who will lead in these issues and will be the one to determine policy," he said.
Netanyahu billed the alliance with Livni as a step toward building a broad and stable coalition. Yet her appointment may end up having just the opposite effect.
With Livni on board, Netanyahu now controls 37 seats, still far short of a majority. He is now expected to court a pair of ultra-Orthodox religious parties. In the best case scenario, Netanyahu would still be several seats short of a majority.
It will be virtually impossible for him to form a government without support of either Lapid's "Yesh Atid" Party, or the "Jewish Home," a nationalist party close to the Jewish settler movement.
Both parties campaigned on a key issue popular with the public — ending a controversial system of draft exemptions given to ultra-Orthodox seminary students. They have both been cool to sitting in a government that includes the ultra-Orthodox, who oppose any changes in the draft.
For now, they are maintaining a common front, signaling they want to serve together in the next government. Netanyahu is expected press Jewish Home hard to join him.
But so far, Jewish Home's leader, Naftali Bennett, shows no signs of bending. If anything, the Livni appointment appears to have pushed him further away. Bennett, who opposes making any concessions to the Palestinians, reacted angrily to Livni's appointment.
"I don't care about Abu Mazen," he told a party conference this week, referring to Palestinian President Mahmoud Abbas. "I'm not interested in making him stronger. I care about the people of Israel."
Ayelet Shaked, a member of Jewish Home, said Thursday the party still hopes to join the coalition, but that she could not rule out the possibility of forcing new elections.
"Maybe we'll be in the opposition. Elections are also an option," she said. "We are prepared for every option."
Netanyahu has been given until March 2 to form a coalition. After that he can ask President Shimon Peres for a final two-week extension. A failure to reach a government by then could give Lapid a chance to form a coalition, or could trigger new elections.
Polls published Friday show that Likud would take a beating if a new election were held.
The daily Maariv published a Maagar Mohot poll that showed Likud-Yisrael Beitenu losing three seats from 31 to 28 compared to Yesh Atid winning five more seats from 19 to 24 and Jewish Home getting an additional seat at 13 from 12.
Yediot Ahronot published a prognosis by pollsters Panels Politics that suggested even more worrying results for Netanyahu should a new election be held. It showed Yesh Atid getting 30 seats compared to just 22 for Likud-Yisrael Beitenu.
Results of that poll show the biggest bloc could be the center-left together with Arab parties with 65 seats, Yediot reported.