Amnesty International: Qaddafi Troops Suspected of War Crimes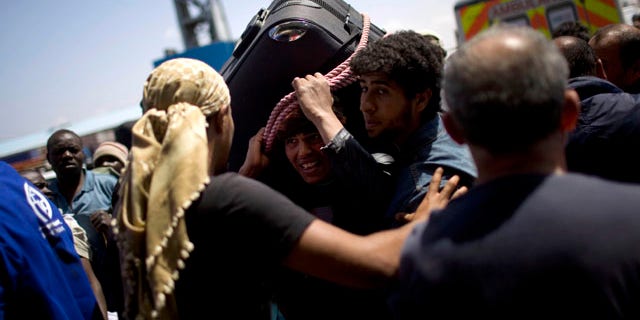 TRIPOLI, Libya -- Muammar al-Qaddafi's forces may have committed war crimes in the rebel-held city of Misrata and the humanitarian situation is rapidly deteriorating because of regime attempts to tighten its siege and block access by sea, Amnesty International said Friday.
Libyan troops have indiscriminately fired heavy artillery, rockets and cluster bombs at residential areas of Libya's third-largest city during a two-month siege, in a clear breach of international humanitarian law, the group said in a report.
"Weapons designed for the battle field and not for residential areas are being launched into residential neighborhoods, killing civilians and really just creating a situation of terror," said Amnesty's Donatella Rovera.
Earlier this week, the prosecutor of the International Criminal Court told the U.N. Security Council he would seek arrest warrants against three Libyans for crimes against humanity committed in Libya. He did not name the suspects.
Misrata is the main rebel stronghold in western Libya, a region still largely under Qaddafi's control, while the rebels hold positions in the east of the country.
Libyan troops besieging the city of 300,000 by land recently stepped up shelling of Misrata's port to close the remaining lifeline. Hundreds of people have been killed in Misrata since February, medics say.
On Wednesday, government forces shelled Misrata's port area as an aid vessel docked to evacuate hundreds of stranded migrant workers. The shells killed two toddlers and their aunt and uncle, all from Niger, as they waited for evacuation in a nearby tent camp.
The humanitarian situation has deteriorated sharply in recent days because the attempted port blockade has made it even more difficult to bring in supplies, said Rovera. She said there is no electricity or running water in large parts of the city, and food supplies are dwindling.
Government officials deny wrongdoing by Libyan troops, including shelling of civilian areas. Libya's deputy foreign minister, Khaled Kaim, said Thursday that the military has decided to block ships from reaching Misrata, but would not discuss the tactics by regime loyalists, such as last week's mining of Misrata harbor or Wednesday's shelling.
"We will not allow those ships to bring arms to the city and then evacuate some criminals," Kaim said. The government claimed that aid ships would be allowed to pass if they coordinate with the regime.
The fate of Misrata is of strategic importance in the battle for Libya. Unless his forces retake the city, Qaddafi cannot attempt to partition the country, perhaps his only option for remaining in power in some areas of Libya.
For much of the past two months, Qaddafi's troops in tanks were deployed along parts of a downtown thoroughfare, Tripoli Street, while snipers took over high buildings. Late last month, rebel fighters drove regime loyalists to the outskirts of Misrata from where they've continued daily shelling attacks.
Amnesty said scores of Misrata residents not involved in fighting have been killed and hundreds injured by indiscriminate attacks, including with 122mm Grad rockets and 155mm artillery shells.
The report cited an April 14 attack in which rockets hit the Qasr Ahmed neighborhood, killing 12 residents, among them several who were waiting in line outside a bakery.
A day later, the research team found evidence of the use of cluster bombs which pose particular risk to civilians because they scatter small bomblets over a wide area. The group also said snipers targeted residents in areas under control of opposition fighters. Many residents were trapped near the front lines for weeks, the group said.
In another development Friday, France ordered 14 Libyan embassy employees to leave within 48 hours. They had worked for Libya's embassy in Paris before it was shut about a month ago. French Foreign Ministry spokesman Bernard Valero would not say what the diplomats had done to merit expulsion.
France has recognized Libya's opposition movement, and has been a major backer of a NATO-led military mission intended to protect civilians from an onslaught by Qaddafi's forces.
On Thursday, members from the 22-nation Contact Group on Libya agreed to set up an internationally monitored fund that the rebels can access to provide basic services to the Libyan people. Countries have already pledged $250 million.
The United States said it would move to free up at least some of the more than $30 billion it has frozen in Libyan assets. Kaim, the Libyan government official, said the international community has no right to divert frozen Libyan assets, which total about $120 billion. "Any use of the frozen assets is like piracy on the high seas," he said.