Americans killed in Kabul attack included spokesman for former Trump adviser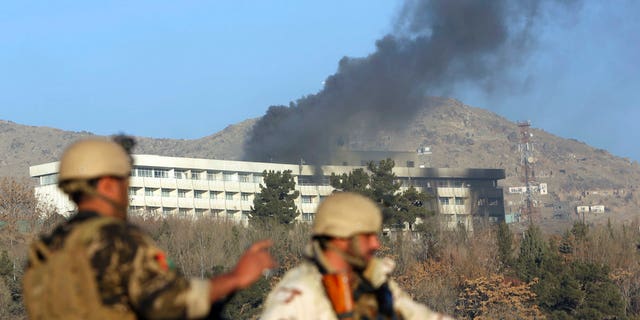 One of the four Americans killed during Saturday's attack on an upscale hotel in Afghanistan's capital was a public relations executive who served as spokesman for a former Trump campaign aide, his company confirmed.
Glenn Selig, 49, president of Tampa, Fla., public relations firm Selig Multimedia Inc., was in Kabul working on a project celebrating the country's triumphs over extremism, the Tampa Bay Business Journal reported, citing a company statement.
"Glenn was a tireless professional, loyal friend and pillar of the community, but most importantly he was a loving husband and wonderful father," Selig Multimedia said in a statement this week. "The loss for his family and friends cannot be measured nor conveyed strongly enough, but we thank everyone for the outpouring of support we have received."
Selig, a former television news anchor, had a client base that was as diverse as it was notorious. It included Rick Gates, the former Trump operative who was indicted last year on money-laundering and lobbying-related charges.
Gates reportedly hired Selig amid the heightened attention brought by special counsel Robert Mueller's investigation.
In 2011, Selig reportedly advised the defense team of Casey Anthony when she was accused of killing her young daughter.
Former Illinois Gov. Rod Blagojevich, who was impeached and removed from office in 2009 after facing corruption charges, and convicted murderer Drew Peterson also called on Selig's public-relations services, according to the New York Post.
Lobbyist Jack Burkman, who worked with Selig and considered him a frend, told Politico that the executive "went with a group" to Afghanistan and "had security on the ground."
"The tragically ironic part is Glenn's last words to me were, 'Be careful,'" Burkman said. "It's just a tragedy — terrible."
The Taliban claimed responsibility for the deadly assault on the Intercontinental Hotel in Kabul by six heavily-armed assailants.
The attackers pinned down security forces for more than 13 hours before the last attacker was killed. Twenty-two people, including 14 foreigners, died in the siege.
The State Department said a total of four U.S. citizens were killed, and two were injured.
The other slain Americans have not yet been identified.