American vet abused on U.K. tram: I've gotten worse abuse than what they yelled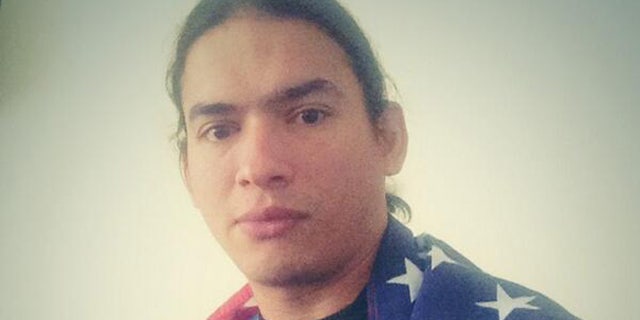 NEWYou can now listen to Fox News articles!
LONDON (AP) – As videos, photos and written accounts of intolerant abuse percolate across the internet in the wake of Britain's referendum to leave the European Union, Juan Jasso has become one of the country's best-known victims.
The U.S. Army veteran is seen deflecting abuse as a British-sounding youth in a baseball cap, clutching a bottle of beer, screams expletives and demands that the immigrant get off the tram running through the northern city of Manchester.
The youth shouts: "Go back to Africa!"
"How old are you?" Jasso shouts back at one point. "I've been here longer than you have."
The video showing the nakedly aggressive racial abuse became among the most widely shared accounts of intolerance which have emerged since Thursday's vote. Anecdotal evidence and police statistics suggest the country has seen a surge in abusive acts against immigrants as fringe elements who backed Brexit crow over their victory.
Suspected anti-immigrant incidents have been reported across the country, with graffiti daubed on buildings and Europeans heckled in the street. In the most serious case, a halal butcher's shop was firebombed in Walsall in central England.
In a telephone interview, the 38-year-old from Brownsville, Texas shrugged it off.
"I'm not really bothered," he said of the abuse. "Probably my upbringing and the fact that I've had a lot of experiences and situations where keeping calm is vital."
Jasso said he's served in the Middle East and the Balkans before moving to Britain, where he currently works at the Manchester College teaching in the sports science department.
As a former doorman for student bars and clubs, Jasso said he'd get abuse "on a regular basis ... a lot worse than what these kids were saying."
And he said the principle of keeping calm applied to post-Brexit Britain as well. Jasso can't vote in British elections — he doesn't have citizenship — but he was among those who supported the idea of removing the U.K. from the EU.
"If done properly, it could be a good thing," he said. "It's up to the politicians to get it right."
As for the abuse on the tram, he said he doubted it was Brexit-related.
"In this particular incident, probably not."