Amanda Knox Returns to Court on Slander Charges for Saying Italian Police Beat Her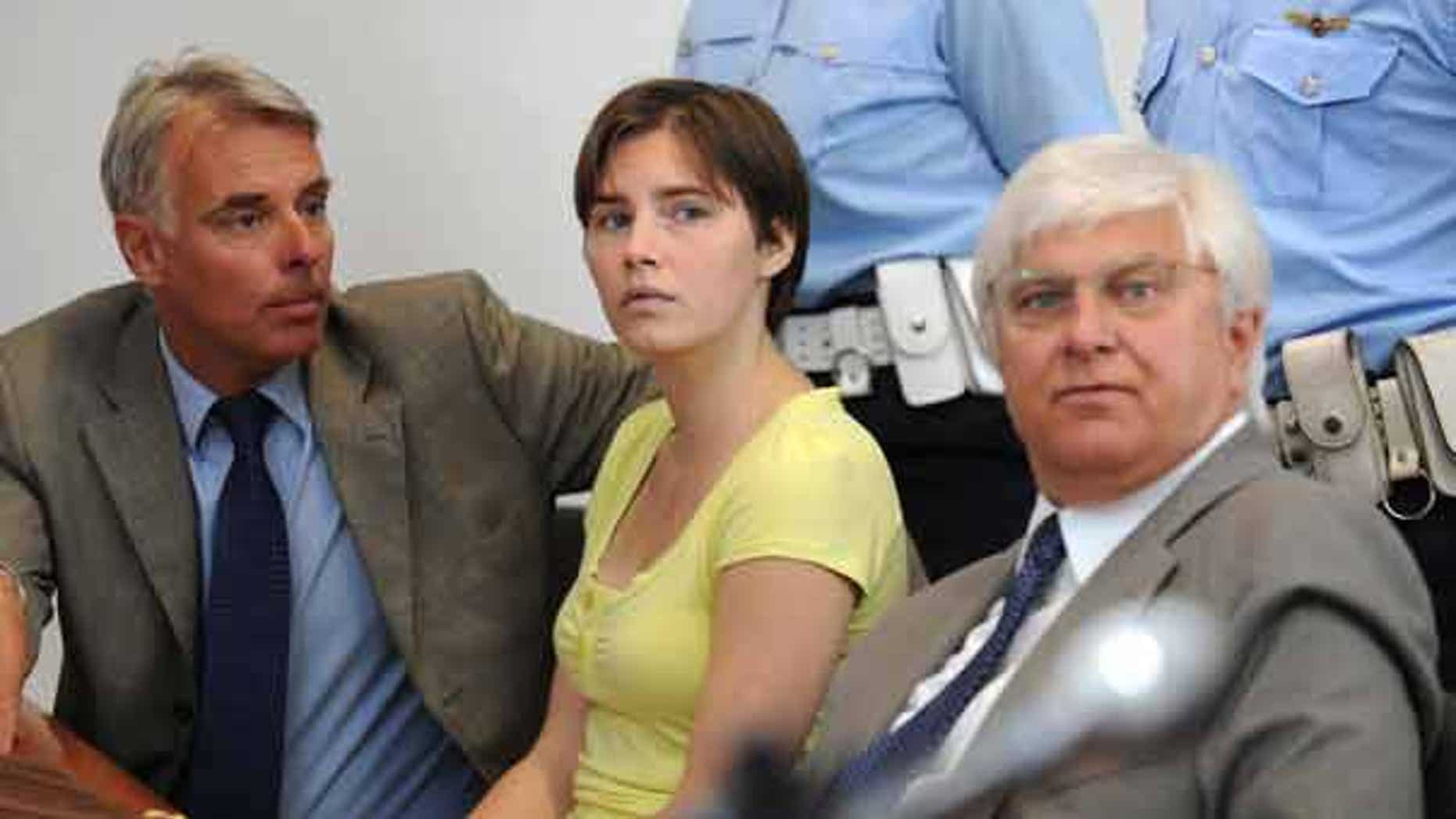 PERUGIA, Italy — Amanda Knox appeared in public Tuesday for the first time since her murder conviction, returning to court to face slander charges for saying she was beaten by police during questioning over the death of her roommate.
The 22-year-old American sported a shorter haircut and a yellow T-shirt at a preliminary hearing held behind closed doors in a Perugia courthouse. The brief appearance marked the first time she had been seen since December, when she was escorted out of the courtroom in tears moments after hearing the guilty verdict.
Knox has said she was beaten by police during questioning over the 2007 slaying of Meredith Kercher, the 21-year-old Briton who shared an apartment with Knox while studying in Perugia. Police have denied the misconduct and filed slander charges against her.
Tuesday's hearing was largely devoted to technicalities and quickly adjourned.
"Amanda is doing pretty good," Knox's stepfather, Chris Mellas, told reporters in Perugia, a hill town in central Italy. "She is looking forward actually to being able once again to put forward her side of the case and kind of defend herself."
Knox said in June 2009 testimony that she had been the subject of a "crescendo" of police pressure and that a policewoman hit her twice on the head. She said that behavior led her to accuse an innocent man — the owner of a pub in Perugia where Knox worked — who was arrested as a result of Knox's statements before being later cleared.
Knox's attorney, Luciano Ghirga, said Tuesday that any defendant should be granted the right to defend oneself in court without the risk of facing slander accusations.
Knox has been jailed since shortly after Kercher's body was found on Nov. 2, 2007, in the house the two students shared. After a yearlong trial, Knox was convicted of murder and sexual assault and sentenced to 26 years in jail.
Her ex-boyfriend and co-defendant at the trial, Raffaele Sollecito of Italy, was also convicted and sentenced to 25 years. A third person, Ivorian Rudy Hermann Guede, was convicted of murder in separate proceedings and sentenced to 16 years.
All three deny wrongdoing and are appealing.