Amanda Knox Lawyers Seek to Stop Lifetime Film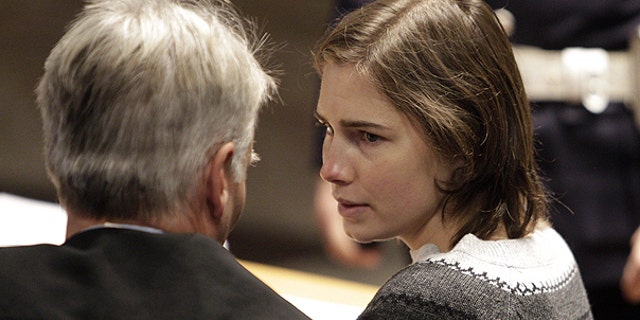 ROME – Lawyers for U.S. student Amanda Knox and her ex-boyfriend, who were found guilty of killing Knox's British roommate in Italy, have formally demanded that U.S. television channel Lifetime scrap a planned film about their trial.
Attornies Carlo Dalla Vedova and Luca Maori said Saturday they had sent letters to Lifetime warning they would go to U.S. court to try to sequester the film if it isn't canceled and a trailer removed from Lifetime's website.
"Amanda Knox: Murder on Trial in Italy," which features "Heroes" star Hayden Panettiere in the title role, is due to air Feb. 21.
Les Eisner, a spokesman for Lifetime's parent company, A&E Television Networks, said the network was not commenting at this time.
Knox and ex-boyfriend Raffaele Sollecito were convicted in 2009 of sexually assaulting and murdering Meredith Kercher in the apartment she shared with Knox in the central Italian city of Perugia. Kercher was stabbed to death the night of Nov. 1, 2007.
Knox was sentenced to 26 years in prison; Sollecito 25 years. Both deny wrongdoing and their appeals trial is under way.
The film is based on the trial. A preview posted to Lifetime's website shows scenes from the run-up to the murder — including one split-second scene showing the actress playing Kercher, wearing a gray bra, being attacked by two men.
In its 2009 ruling, the Perugia court said that on the night of the murder Knox and Sollecito were at the house with a fourth person, Rudy Hermann Guede, an Ivory Coast citizen who has also been convicted of murder in separate proceedings.
The court said Knox and Sollecito assisted Guede's sexual desire for Kercher, becoming her brutal assailants together with Guede and ultimately killing her when she resisted the advances.
Already, the victim's father, Jon Kercher, has harshly criticized the re-enactment scenes as "absolutely horrific."
Knox's attorney Della Vedova said Saturday he had sent a warning Thursday to Lifetime to cancel the film and trailer, which on Saturday was not loading on the Lifetime website.
Sollecito's attorney Maori said the warning included a threat to go to court to sequester the film to ensure it wasn't aired. He said it presented scenes that were "beyond any logic" and hyped up to attract viewers.