All eyes on North Korea as US-South Korea war games set to begin
HAGATNA, Guam – There are two things North Korea doesn't like. The B1 bomber, a backbone of the U.S. Air Force, and a biannual U.S.-South Korea military exercise known as Ulchi-Freedom Guardian.
That drill begins Sunday while a new contingent of bombers just arrived in Guam. North Korea sees both as a provocation.
While the U.S. has not backed away from either, both China and South Korea now say armed conflict on the Korean Peninsula is uncalled for.
GUAM RESIDENTS RELIEVED - FOR NOW - AFTER NORTH KOREA TONES DOWN MISSILE THREAT
"I will prevent war at all cost," South Korean President Moon Jae-in told reporters Thursday, which marked his first 100 days in office. "So I want all South Koreans to believe with confidence that there will be no war."
Moon said he would consider sending a special envoy north but Kim Jong Un must first stop trying to arm his missiles with nuclear warheads. He also said, for the first time, that U.S. has agreed to consult with Seoul before taking any action against North Korea.
"Only South Korea can decide military actions on the Korean Peninsula," he said. "Nobody can choose to carry out military action without South Korea's consent. The United States and President Trump have made a promise to fully cooperate and ask for our agreement in advance, before utilizing whatever options they might use against the North."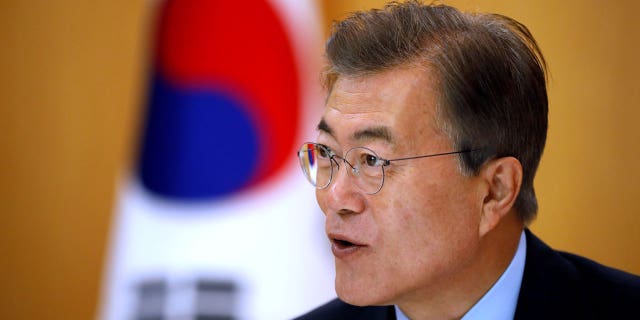 Moon's speech came the same day one of China's top generals told Joe Dunford, chairman of the U.S. Joint Chiefs of Staff, military action should not be an option on the Korean Peninsula.
WHERE IS GUAM AND WHY WOULD NORTH KOREA ATTACK IT?
"Negotiations are the only effective option," said Fan Changeling, vice chairman of China's Central Military Commission.
But Dunford told China's president that Trump asked for military options on North Korea, and that's what he planned to provide. Aside from that disagreement, the two sides did sign a deal to deepen military cooperation.
Speaking to Chinese President Xi Jingping, Dunford said: "You and President Trump are committed to our improvement of military-to-military relations, and we have approached it with great commitment, candor and we certainly want to deliver results."
Looking forward, all eyes will be on North Korea next week when that joint exercise begins. In the past Kim used the war games as a pretext to launch a new round of ballistic missiles to express his disapproval.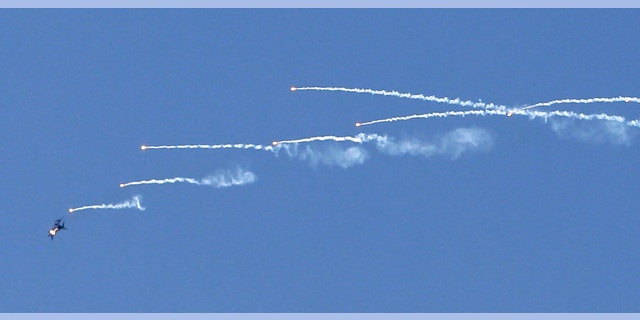 The B1 bomber's out of Guam may or may not be involved. The huge, all-purpose bomber can reach Pyongyang in under three hours and would be key to wiping out North Korea's heavily fortified nuclear program. Six B1Bs operate out of Andersen Air Force Base. Recently, several rotated in from Ellsworth AFB in South Dakota.
AFTER NORTH KOREA NUCLEAR THREAT, GUAM RESIDENTS PREPARE FOR POSSIBLE MISSILE STRIKE
The 10-day joint military exercise involves some 80,000 U.S. and South Korean soldiers. The U.S. calls it a 'defensive exercise."
Kim disagrees and wants it stopped.
South Korea and the U.S. said that's not going to happen, but the operation could be modified slightly as a show of good faith if the U.S. is interested in reaching a diplomatic solution.