All Blacks survive US scare to set up Wales date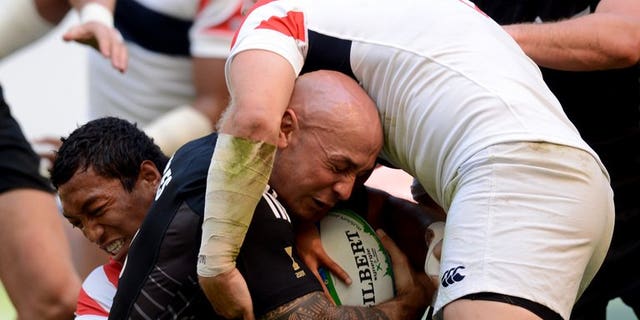 NEWYou can now listen to Fox News articles!
MOSCOW (AFP) – The All Blacks set up a quarter-final clash with defending champions Wales after surviving a scare against the United States on the second day of action in the IRB Rugby World Cup sevens on Saturday.
A cracking day's rugby saw South Africa, fired by exciting youngster Cheslin Kolbe and veteran Cecil Afrika, finish atop the seedings for the knock-out phase, a system unique to the World Cup based on points difference.
The South Africans blanked Japan (33-0) and Scotland (41-0), with no points against over the opening two days, and will now meet Fiji, who finished as one of the two best-placed runners-up behind Wales in Pool E.
Second-seeded Kenya, who hammered the Philippines 45-5 and Zimbabwe 31-5, will play France, for whom outstanding scrum-half Terry Bouhraoua took a drop-kick penalty to tie the scores at 17-17 against Pool A toppers Australia to qualify as the best runner-up.
England will play Australia in the final quarter-final on Sunday.
New Zealand had seen off Georgia 26-7 in the morning's pool play in stifling conditions with temperatures hovering around 33 degrees Celsius (91F) and high humidity, but met stiffer resistance from the United States.
Sherwin Stowers got the All Blacks off the mark, but his early try was cancelled out by Nick Edwards' fine solo effort and Matt Hawkins' touchdown a minute later.
Edwards crossed for a second from the kick-off for a shock 19-5 lead, but the Americans then conceded a penalty try, with Tim Mikkelson and David Raikuna also both scoring late on to wrap the match up at 26-19.
"The US played particularly well, and you can't play without the ball in this game - we didn't get any and when we did we made some uncharacteristic mistakes," said All Blacks coach Gordon Tietjens.
"The guys are hurt, they like to pride themselves on good performances and we didn't put in one of those.
"We're still in the championship and there was a time in that game there when we might not have been there on Sunday," said Tietjens, bemoaning the seedings system which he claimed were skewed because of imbalanced pools.
Defending champs Wales pulled off a last-gasp victory over Fiji in their pool, but their small points differential saw them aligned with the All Blacks in the quarters as reward.
Samoa, the most experienced team in competition, and 2009 runners-up Argentina were the biggest losers on the day, and will have to make do with a spot in the second-tier competition.
England had put Hong Kong to the sword (38-7) but struggled against The Argentinians, who had previously been beaten 17-10 by Portugal.
"You can see in our preparation it is very different to the World Series," England coach Ben Ryan said of the IRB's global sevens circuit.
"They are desperate to try and emulate the guys that were their heroes 20 years ago (when England won). It means a huge amount."
A late try from replacement Michael Wanjala saw Kenya nip Samoa 17-12 for top spot in Pool C.
"They put in three professional performances, none more so than against Samoa who are the most experienced team here, full of stars," said Kenya coach Mike Friday.
"This gives us an opportunity now to come back in the quarter finals. The boys can now relax a little earlier, get the recovery right and they can smile, which is important to have that mental relief which the earlier you can get it the better."
The women's competition saw defending champions Australia in impressive form in posting easy wins against China (36-0), Ireland (22-5) and South Africa (29-0).
Arch-rivals New Zealand beat Tunisia (36-0), the Netherlands (41-0) and Canada (20-5) in similarly dominant fashion.