Albania Holds Funeral for Self-Styled King Leka I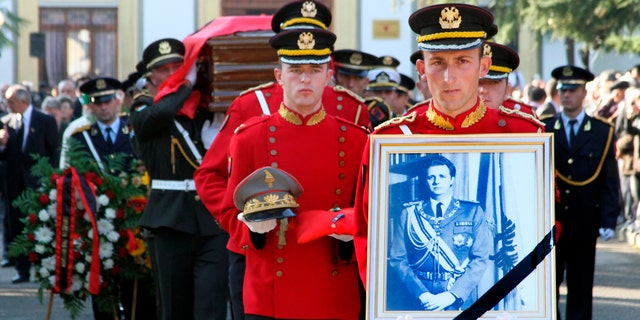 TIRANA, Albania -- The self-proclaimed heir to Albania's royal throne was buried on Saturday during a ceremony attended by the country's top leaders and broadcast live on national television.
Though a parliamentary republic, Albanian authorities held official ceremonies for the self-styled king -- who called himself Leka I Zogu -- at the Parliament building. They also declared Saturday a day of national mourning, with flags flying at and a minute of silence at noon.
Zogu, who returned home from exile to try to claim the throne himself, died Wednesday of a heart attack. He was 72.
He was the son of King Ahmet Zogu, a Muslim chieftain who proclaimed himself Albania's monarch in 1928 and ruled for 11 years during a time that many older Albanians now remember as prosperous and stable.
Albania's communist rulers abolished the monarchy in 1946, but, even in exile, the royal family insisted that Leka Zogu was Albania's legitimate ruler.
President Bamir Topi and Prime Minister Sali Berisha, joined hundreds of other officials and leaders in paying their respect during a ceremony that was broadcast live on public television and some other private channels. Kosovo President Atifete Jahjaga also attended.
"We have come here today ... to honor, with full historic gratitude and national pride, the work of Leka Zogu, son of Ahmet Zogu, King of Albanians," said Tirana's Mayor Lulzim Basha
"Leka Zogu's commitment to the democracy in Albania was never separate from the extraordinary attention to Kosovo's fate," Basha said.
Muslim, Catholic and Orthodox prayers were read by religious leaders.
He was buried next to his wife's and mother's grave at the public Sharra cemetery in a Tirana suburb.
"I, Prince Leka II, swear in front of the body of my father that I will follow the road of King Zogu, of King Leka I to be at the service of the nation, the homeland," said Leka II, his only son.
No opposition leaders were present at the ceremony. Erion Brace, an opposition lawmaker, said that Leka Zogu was never the country's king.
Born just two days before Albania was occupied by Italian forces in 1939, Leka Zogu, the only son of King Ahmet Zogu, spent most of his life in exile in Europe and Africa while his country was ruled by Communists.
After Albania's Communist regime fell in 1990, Leka Zogu made two disastrous attempts to return home -- being thrown out during the first in 1993 and charged with leading an armed uprising during the second in 1997.
The six-foot, five-inch tall Leka Zogu finally settled in Albania in 2002, leading a quiet life with his Australian wife, who died in 2004, and son but never relinquishing his claim to the throne. The royal family's official website listed his interests as "arms, shooting, reading and history."
Leka Zogu's Hungarian mother, Queen Geraldina, died in 2002.
His family was given back some of its old royal properties and granted diplomatic passports.
Leka Zogu's son has since served as an adviser to several Albanian governments. Today, a small royalist party is allied to the governing Democratic Party's coalition of Albanian Prime Minister Sali Berisha.
The government has pledged to bring home from Paris the late king's remains, calling the monarch "one of the greatest, most distinguished personalities with a major contribution to the history of the Albanian nation."