Al Qaeda's New Magazine for Women Mixes Beauty and Bomb Tips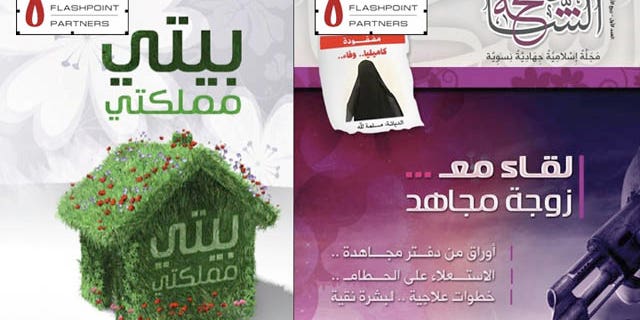 Would-be female Islamist extremists Sunday were awaiting copies of Al Qaeda's newly-launched women's magazine, which mixes tips on skin care with articles on marrying suicide bombers and waging electronic jihad.
Al Shamikha magazine -- its title means "The Majestic Woman" -- features beauty and fashion tips alongside articles on "marrying a mujahedeen" and carrying out suicide attacks.
The first issue of the glossy 30-page publication, which must be ordered online, was released in recent days by the Al Qaeda-affiliated Al Fajr Media Center.
Its cover features the barrel of a sub-machine gun next to the image of a woman in a veil. Inside, there are exclusive interviews with martyrs' wives who praise their husbands' decisions to die in suicide bombings. Many other articles have female authors.
The aim of the magazine, according to editor Saleh Youssef, is to educate women and involve them in the war against the enemies of Islam.
"Because women constitute half of the population -- and [one might even say] that they are the population, since they give birth to the next generation -- the enemies [of Islam] are bent on preventing [the Muslim] woman from knowing the truth about her religion and her role, since they know all too well what would happen if women entered the field [of jihad]," he wrote.
James Brandon, a spokesman for the UK anti-extremism think tank Quilliam, described the magazine -- the second issue of which promises tips on exfoliation and electronic jihad -- as a "jihadist's version of Cosmopolitan magazine," telling British newspaper The Sunday Times that Al Qaeda leaders "see how effective magazines are at pushing the ideals of Western culture and want to try the same thing."