Al Qaeda-linked group holding at least 3 Americans hostage after taking control of Algerian gas field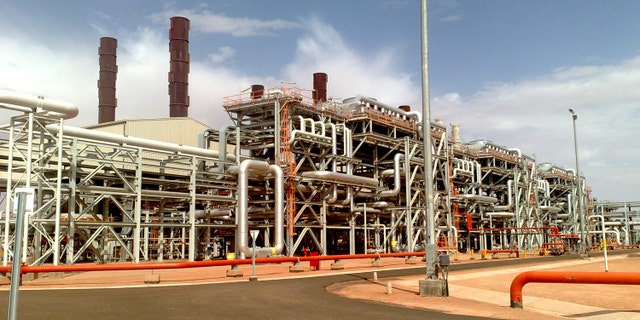 An Al Qaeda-linked group has attacked and taken control of a natural gas field partly owned by BP in southern Algeria, taking at least three Americans hostage, a senior intelligence official tells Fox News.
A group called the Katibat Moulathamine, or the Masked Brigade, called a Mauritanian news outlet to say one of its subsidiaries had carried out the operation on the Ain Amenas gas field, taking 41 hostages from nine or 10 different nationalities. They claim they are holding seven Americans.
The group's claim could not be independently substantiated and typically there would be fewer than 20 foreign staff members on site on a typical day, along with hundreds of Algerian employees.
The group said the attack was in revenge for Algeria's support of France's operation against Al Qaeda-linked Malian rebels groups far to the southeast.
The caller to the Nouakchott Information Agency, which often carries announcements from extremist groups, did not give any further details, except to say that the kidnapping was carried out by "Those Who Signed in Blood," a group created to attack the countries participating in the ongoing offensive in Mali. The group is demanding an end to the offensive, Reuters reports, citing Mauritanian media.
Algeria's Interior Minister, Daho Ould Kablia said on television that "Algeria will not respond to terrorist demands and rejects all negotiations." He denied that the militants were from Mali or Libya, possibly suggesting they were from Algeria itself.
In a statement BP said the site was "attacked and occupied by a group of unidentified armed people," and some of its personnel are believed to be "held by the occupiers."
The number and identities of the hostages was still unclear, but Ireland announced that a 36-year-old married Irish man was among them, while Japan and Britain said their citizens were involved as well. A Norwegian woman said her husband called her saying he had been taken hostage.
Norwegian Prime Minister Jens Stotlenberg said in a news conference that 13 of the hostages are Norwegian employees of the energy firm Statoil, Reuters reported.
"We've asked the Algerian authorities to put the life and health of the hostages above all," Norwegian Foreign Minister Espen Barth Eide said.
In addition to two foreigners being killed -- one of them a Briton -- six others were wounded in the attack, including two foreigners, two police officers and two security agents, Algeria's state news agency reported.
The Masked Brigade was formed by Al Qaeda's longtime strongman in the Sahara region, Moktar Belmoktar, a one-eyed Algerian who recently declared he was leaving the terror network's Algerian branch, Al Qaeda in the Islamic Maghreb for his own group.
He said at the time he would still maintain ties with the central organization based out of Afghanistan and Pakistan.
In Mali, French President Francois Hollande launched the surprise operation in its former West African colony on Friday, with hopes of stopping Al Qaeda-linked and other Islamist extremists he believes pose a danger to the world.
Wednesday's attack began with the ambush of a bus carrying employees from the gas plant to the nearby airport but the attackers were driven off, according to the Algerian government, which said three vehicles of heavily armed men were involved.
"After their failed attempt, the terrorist group headed to the complex's living quarters and took a number of workers with foreign nationalities hostage," said the statement, adding that authorities were following the situation very closely.
Attacks on oil-rich Algeria's hydrocarbon facilities are very rare, despite decades of fighting an Islamist insurgency, mostly in the north of the country.
In the last several years, however, Al Qaeda's influence in the poorly patrolled desert wastes of southern Algeria and northern Mali and Niger has grown and it operates smuggling and kidnapping networks throughout the area. Militant groups that seized control of northern Mali already hold seven French hostages as well as four Algerian diplomats.
The natural gas field where the attack occurred, however, is more than 600 miles from the Mali border, though it is just 60 miles from Libya's deserts.
BP, together with Norwegian company Statoil and the Algerian state oil company, Sonatrach, operate the gas field. A Japanese company, JGC Corp, provides services for the facility as well.
Japanese Chief Cabinet Secretary Yoshihide Suga said the kidnapped foreigners possibly include Japanese employees of JGC.
"We are certain that JGC is the one affected," Suga said, adding that the government is now negotiating with local officials through diplomatic channels, asking for safety first to protect the lives of the Japanese nationals.
Japan's Foreign Minister Fumio Kishida told Algerian counterpart, Mourad Medelci, during telephone talks late Wednesday that he was gravely concerned about the development, and called the abductions "unacceptable."
"I asked (Algeria) to place top priority on the lives of the Japanese and others who have been captured," he said.
Statoil said that it has 20 employees in the facility. The Norwegian Foreign Ministry said it could not confirm that any Norwegian citizens had been abducted. The Norwegian Newspaper Bergens Tidende, however, said a 55-year-old Norwegian working on the site called his wife to say he had been abducted.
Algeria had long warned against military intervention against the rebels in northern Mali, fearing the violence could spill over its own long and porous border. Though its position softened slightly after Hollande visited Algiers in December, Algerian authorities remain skeptical about the operation and worried about its consequences on the region.
Algeria is Africa's biggest country, and has been an ally of the U.S. and France in fighting terrorism for years. But its relationship with France has been fraught with lingering resentment over colonialism and the bloody war for independence that left Algeria a free country 50 years ago.
Algeria's strong security forces have struggled for years against Islamist extremists, and have in recent years managed to nearly snuff out violence by Al Qaeda in the Islamic Maghreb around its home base in northern Algeria. In the meantime, AQIM moved its focus southward.
AQIM has made tens of millions of dollars off kidnapping in the region, abducting Algerian businessmen or political figures for ransom and sometimes foreigners.
The Associated Press contributed to this report.