Airstrikes hit ISIS positions, oil refineries in Syria, activists say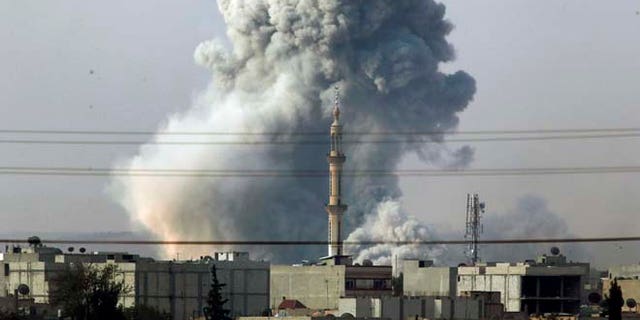 NEWYou can now listen to Fox News articles!
MURSITPINAR, Turkey – Activists say the U.S.-led coalition has launched several airstrikes on positions of Islamic State group militants in northern and eastern Syria, most on the town of Kobani near Turkey.
The Britain-based Syrian Observatory for Human Rights and the Local Coordination Committees say some of the airstrikes targeted the eastern town of Mayadeen.
The Observatory said the airstrikes struck oil refineries near Mayadeen, sparking a huge fire.
The group and Idriss Nassan, a local Kurdish official from Kobani, said Tuesday that intense airstrikes hit members of the Islamic State group around the town.
Nassan said Kurdish militiamen captured the Tel Shair hill that overlooks the town and brought down the black flag of the Islamic State group.
Kobani has been under attack for about a month.