After ISIS campaign, Iran-backed fighters in Iraq vow to drive out US troops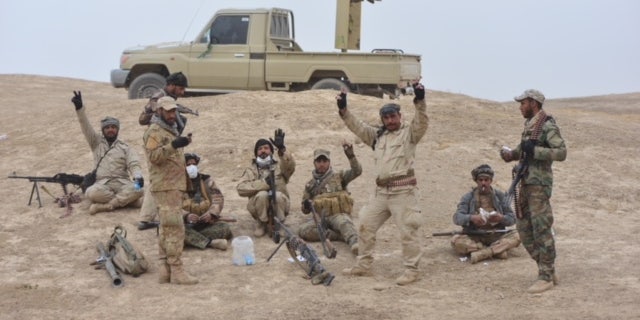 BAGHDAD – Now that they've helped vanquish the Islamic State from much of Iraq, a battle-hardened militia with close ties to Iran may be training its sights on the remaining U.S.-led coalition troops scattered across the country.
At least that's the thinking among some in the ranks of the Popular Mobilization Forces (PMF), a roughly 100,000-thousand-member force that has fought both with and against Americans in Iraq.
"America should only be here for embassy, any military presence and we will target them," Saif Ali, a 37-year-old member of the PMF's Harakat Hezbollah al-Nujaba paramilitary -- based in the southern Iraq governorate of Basra -- told Fox News. "I fought the Americans after 2003, and the British in southern Iraq, and I am happy about that. I don't hate the American people, only hate the U.S. military, and I have killed many of them."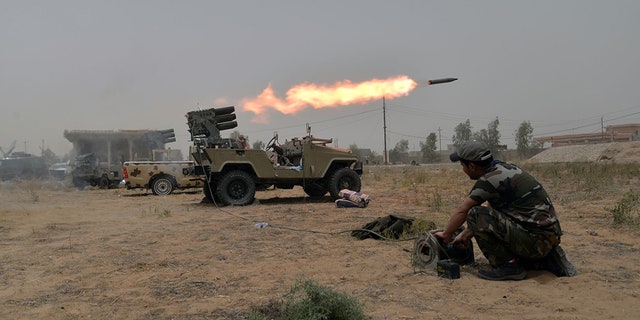 Ali is one of thousands of PMF members who also took advantage of Iran-supplied weapons and ammunition to take the lives of hundreds of U.S. troops during the insurgency that followed the invasion of Iraq.
Rayan al-Kildani, the 32-year-old leader of the PMF's Babylon Brigades, an Iraqi Christian militia, noted that he, too, got his start fighting the Americans post-2003 -- allegedly after learning how to use weapons from action-oriented TV shows and movies. And although he has relatives in the U.S. and even visited a few years ago, he said that he threatened to attack U.S. intelligence personnel he encountered after the Mosul battle and ultimately wants to see American forces gone.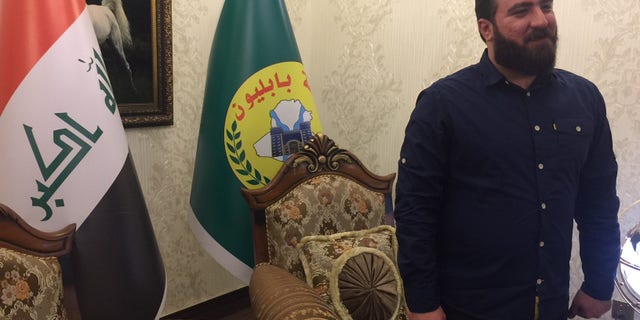 The PMF was created soon after the June 2014 ISIS invasion in response to a fatwa, an edict issued by an Islamic leader, from Shiite cleric Ayatollah Sayyed Ali Hosseini Sistani. He called on all able-bodied males to fight the brutal Sunni insurgency. The PMF was initially an unofficial umbrella organization comprising some 40 militia groups. But, given their strong fighting skills and popularity among locals for their prominent role in combating ISIS, Iraqi Prime Minister Haider al-Abadi folded them into the Baghdad government's security forces in November 2016.
Today, most PMF fighters draw salaries from the Baghdad government. But Mohand al-Eqqaby, the PMF spokesman, said at least another 50,000 unpaid fighters are on the ground and -- for now at least -- have no intention of fighting U.S. troops.
But he still wants the Americans gone.
"Our stand is clear," Eqqaby asserted. "America was not there at the beginning of this ISIS crisis when we needed them most. We are strong now, and as long as we are fighting, Iraq does not need Americans on our land."
TRUMP, MATTIS TURN MILITARY LOOSE ON ISIS, LEAVING TERROR CALIPHATE IN TATTERS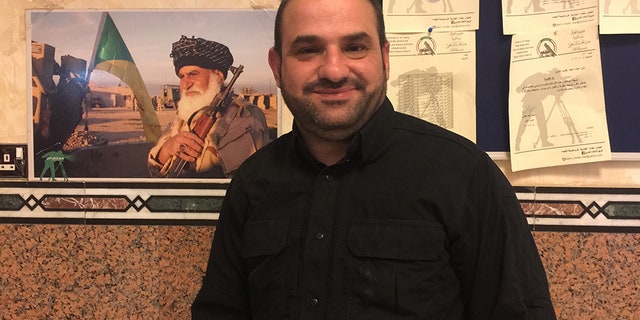 LIFE AFTER ISIS: CHRISTIANS SAY THEY CAN'T GO HOME WITHOUT INTERNATIONAL PROTECTION
The PMF has also expanded its influence beyond the battlefield and into the political sphere ahead of Iraq's parliamentary elections in May. Many militia leaders are expected to win crucial seats and challenge Abadi, who is considered a reliable U.S. partner bound to keeping Iranian influence at bay.
Anxieties are growing over the PMF's increasing influence and the notion that many take their orders not from Iraq's commander in chief, but rather from Iran's leadership.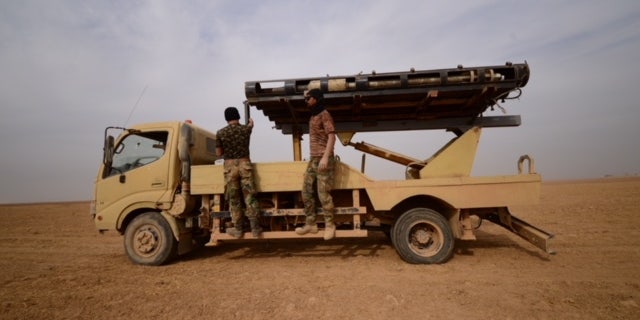 "Our goal is not to be employers of the Iraqi government, but to fight in Syria and al-Quds (Arabic for Jerusalem), and we will await orders from our religious men," said Hashim al-Maihi, a 44-year-old former policeman who is now a leader in the "League of the Righteous People" battalion, referred to as Asa'ib Ahl al-Haq, in the PMF. He said that he does not draw a Baghdad salary, and that it was his duty to fight American occupation in Iraq and later ISIS.
"My rifle is standing up and I am ready to protect any city," he said. "In my house, I raise pigeons as a symbol of peace in Iraq, but my dream is not to see Americans in Iraq."
The PMF's objective to disperse its military across the Middle East --as scores have defied Baghdad's orders and gone to fight for Iranian interests alongside Syria's army and Lebanon's Hezbollah --is troubling to some U.S. officials.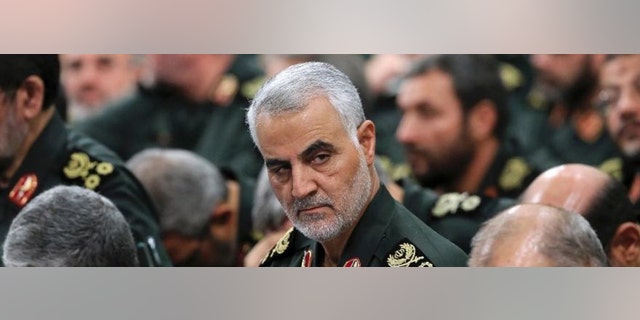 Last month, CIA chief Mike Pompeo revealed he had sent a letter to Iranian Maj. Gen. Qassam Soleimani, warning that forces under Iran's tutelage may attack U.S. troops. Pompeo added that the U.S. would hold him and his country accountable for "any attacks on American interests."
"Now that ISIS is not much of a threat, the PMF is likely to plan attacks against U.S. personnel in Iraq that would be carried out as soon as Tehran gives the orders," surmised James Phillips, senior research fellow for Middle Eastern affairs at the Heritage Foundation. "This is a major concern, given that tensions between Iran and the U.S. are likely to grow in the future."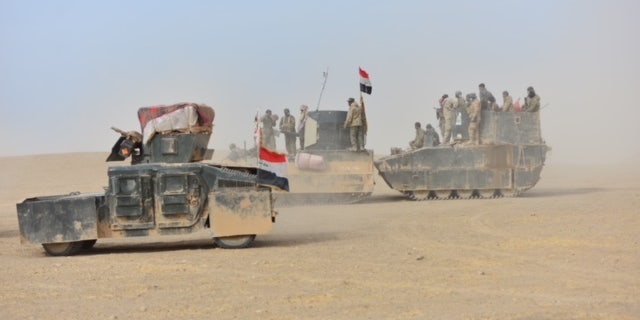 But an American spokesperson for Operation Inherent Resolve -- this is the mission name given to the coalition tasked with defeating ISIS in Iraq and Syria -- told Fox News officials "do not anticipate a PMF aggression toward coalition troops."
"There are certain factions within the PMF that may cause concern, but the PMF as a whole is not considered a threat to coalition forces," the representative noted.
While concerns have been routinely raised that the PMF is able to access U.S. weapons issued to the Iraqi Army -- including several fighters who claimed to have "borrowed" Iraqi Federal Police uniforms to participate in battles that they were prohibited from joining -- American military leaders say they continue to work with the Iraq leadership to "maintain accountability of all equipment."
And there are at least some PMF members who vow never to fight the Americans.
"On the contrary, I stand with them because at that time we were liberated and they removed the tyranny of Saddam Hussein's regime," said Abbas Naji, a 23-year-old member also of the PMF's Asa'ib Ahl al-Haq. He left the Iraqi army to join the PMF after the ISIS onslaught in 2014 – he was disgusted that members of his army "ran away" and allowed ISIS in, and had become partially blind.
"I hope that Americans stay in Iraq and we can learn from them on how make sure Iraq moves forward to be a prosperous nation," he said. "I want us to join the developed countries."