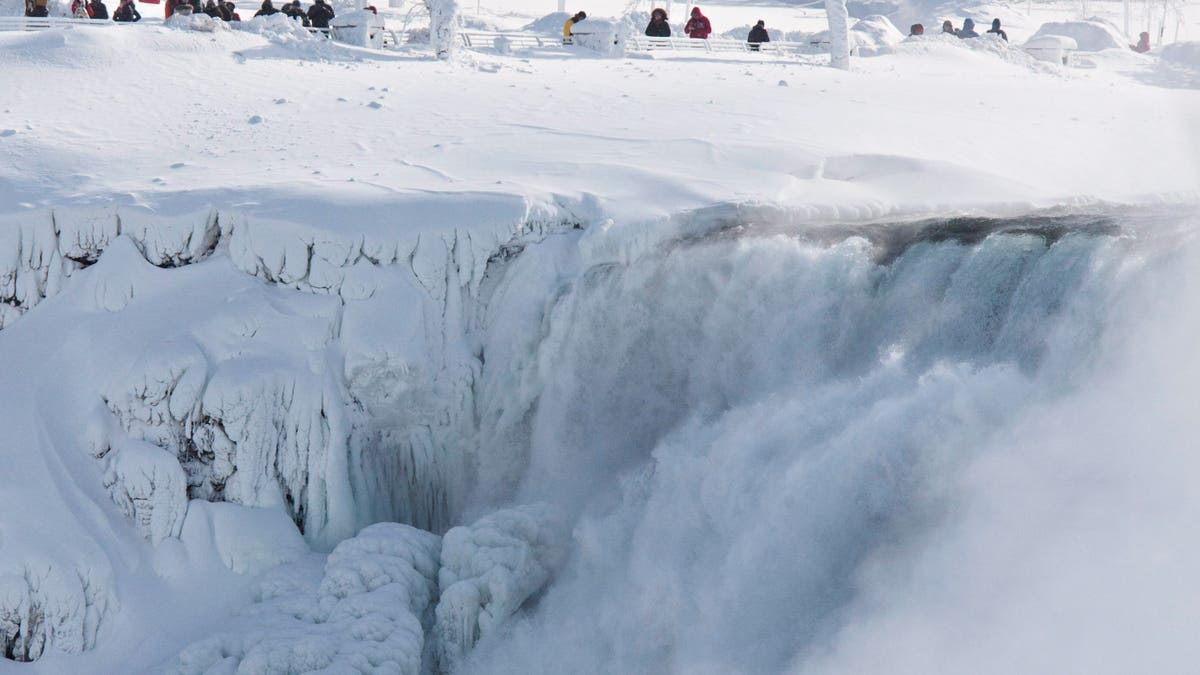 Arctic air returns to northern New England and parts of New York State on Monday after a brief flirtation with sunshine and slightly warmer temperatures.
National Weather Service forecaster Jim Hayes says temperatures will be 25 to 30 degrees below normal across much of the country on Monday. And anything from rain to sleet to snow is possible in many areas.
Here's what's happening:
CHILLY TIMES AHEAD
Wind chills will send temperatures diving below zero throughout northern New England and northern New York anytime from Monday afternoon into the night. Winds could cause Bennington, Vermont, to drop to minus 17 degrees, while Lake Placid, New York, could be a teeth-chattering minus 30 degrees.
SLIPPERY CONDITIONS
Temperatures falling overnight into Monday morning will refreeze ice and could make travel dangerous for motorists, particularly those who encounter black ice, which can appear to be just a wet surface. Three police officers — two off-duty New York Police Department officers and one from Long Island's Suffolk County — suffered injuries in weather-related accidents Sunday morning. Icy roads contributed to the crashes, according to Newsday.
SNOW-RELATED DANGERS
A man was killed Sunday when he fell through a skylight on the roof of a building in Canton, Massachusetts, southwest of Boston. Police said he was one of two people on the roof assessing snow removal needs, when he fell through a skylight covered by the snow and plummeted 40 feet to the ground. On Wednesday, a worker at a Canton company was fatally injured when he fell while removing snow from a roof. A local woman also suffered non-life threatening injuries when she fell from her roof on Saturday. Authorities say the incidents highlight the hidden dangers that come with this winter's weather.
ALL ABOARD
Boston's transit agency is slowly returning to normal after a series of crippling snowstorm and frigid temperatures. Most subway/trolley branches had service restored Sunday just in time for the Monday morning commute. Buses are running on a regular weekday scheduled, but delays are expected. Commuter rail passengers are being told to expect delays and cancellations.
THE BIG FREEZE
The Great Lakes are going the way of the Niagara Falls and Sioux Falls: they're freezing over. Lake Erie is nearly totally frozen, and lakes Huron and Superior are nearly 80 percent frozen, the New York Daily News reports.
SNOWSHOES AND SLEDS
As more than 2 feet of snow fell, it was cross-country skis, sleds and snowshoes in Colorado on Sunday. The storm caused church services and flights to be canceled. This year, Denver International Airport had about 30 inches of snow before the storm began, and officials expect another 14 inches by Monday morning. Another round of snow is expected mid-week, lasting through next weekend.
SOUTHEAST SLAMMED
Winter storm warnings continue for a large portion of northern Louisiana and parts of Texas, Arkansas and Mississippi are under winter storm or freezing rain advisories. Meanwhile, storms and freezing temperatures last week in Tennessee are being blamed for 22 deaths.