Afghan government burns 24 tons of illegal drugs, chemicals and alcohol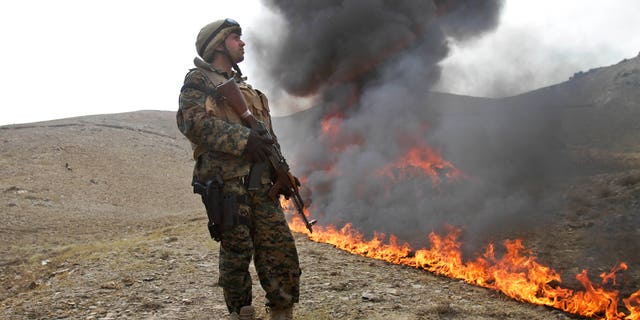 KABUL, Afghanistan – Afghan counternarcotics police poured gasoline on more than 24 tons of narcotics and other illegal substances, then set the pile ablaze on the outskirts of Kabul on Sunday, officials said.
Afghan authorities said the drugs, drug-making chemicals and alcohol were seized in and around the capital during the past nine months.
Baz Mohammad Ahmadi, deputy minister of counternarcotics at the Interior Ministry, said the destroyed drugs included 1,772 kilograms (3,900 pounds) of heroin; 2,764 kilograms (6,070 pounds) of opium; and 140 kilograms (308 pounds) of hashish. More than 12,100 liters (3,200 gallons) of alcohol as well as raisins used to make alcohol also were destroyed.
"It is a considerable amount of narcotics," Ahmadi told reporters at the site as a cloud of black smoke spiraled over the burning drugs. "Compared with (a similar burn from a comparable period) last year, it's a 35 to 45 percent increase."
He said 907 suspects had been arrested in connection with the seizure of the drugs and other materials.
The police put the illegal substances into a large pile, mixed in some logs, doused it with gas and then lighted the material as police stood by applauding.
Stephen McFarland, coordinating director for rule of law and law enforcement at the U.S. Embassy in Kabul, and other foreign officials attended the burn in support of the Afghan government's drug interdiction work.