Aer Lingus board backs takeover bid by British Airways parent, needs Irish government support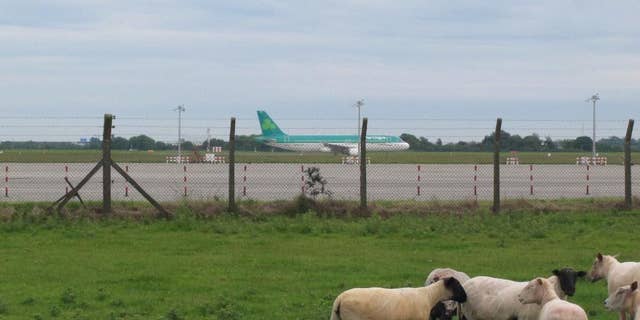 DUBLIN – Aer Lingus announced Tuesday it supports a takeover bid by British Airways parent IAG, putting the Irish airline with its trademark shamrock tailfins on course for foreign acquisition nine years after the national flag carrier's privatization.
The 11-member Aer Lingus board said it could recommend IAG's latest bid of 2.55 euros ($2.85) per share, valuing the airline at 1.36 billion euros ($1.52 billion). It emphasized that the proposal required backing from the two biggest shareholders: rival Irish carrier Ryanair and the Irish government.
Ryanair, which acquired a 29.8 percent shareholding as part of three failed hostile takeover bids, declined to comment.
The government, which retained a 25.1 percent share when it privatized Aer Lingus in 2006, opposed Ryanair's ambitions and has emphasized its concern that a private owner could weaken travel connections for Ireland, an island nation heavily dependent on air links.
Aer Lingus is the fourth-largest owner of landing slots at Heathrow, Europe's most strategic and crowded hub airport. Those slots alone are valued at 400 million euros ($450 million) and could be used by new owners for more lucrative long-haul routes.
Transport Minister Paschal Donohoe said he planned to brief fellow Cabinet ministers about the takeover offer at a meeting later Tuesday.
In its statement, the Aer Lingus board said IAG executives had offered reassurances that Aer Lingus "would operate as a separate business with its own brand, management and operations, continuing to provide connectivity to Ireland."
IAG was created in 2009 by the merger of British Airways and Spanish airline Iberia. Its Irish chief executive, Willie Walsh, led Aer Lingus from 2001 to 2005.
Aer Lingus' 2006 flotation price was 2.20 euros per share. Cash-rich Ryanair that year offered 2.80 euros but was rebuffed by Aer Lingus, labor union leaders, the government and European regulators, who ruled that a Ryanair-Aer Lingus merger would create a monopoly on routes linking Britain and Ireland.