Activists Slam Mexico's Calderón With War Crimes Complaint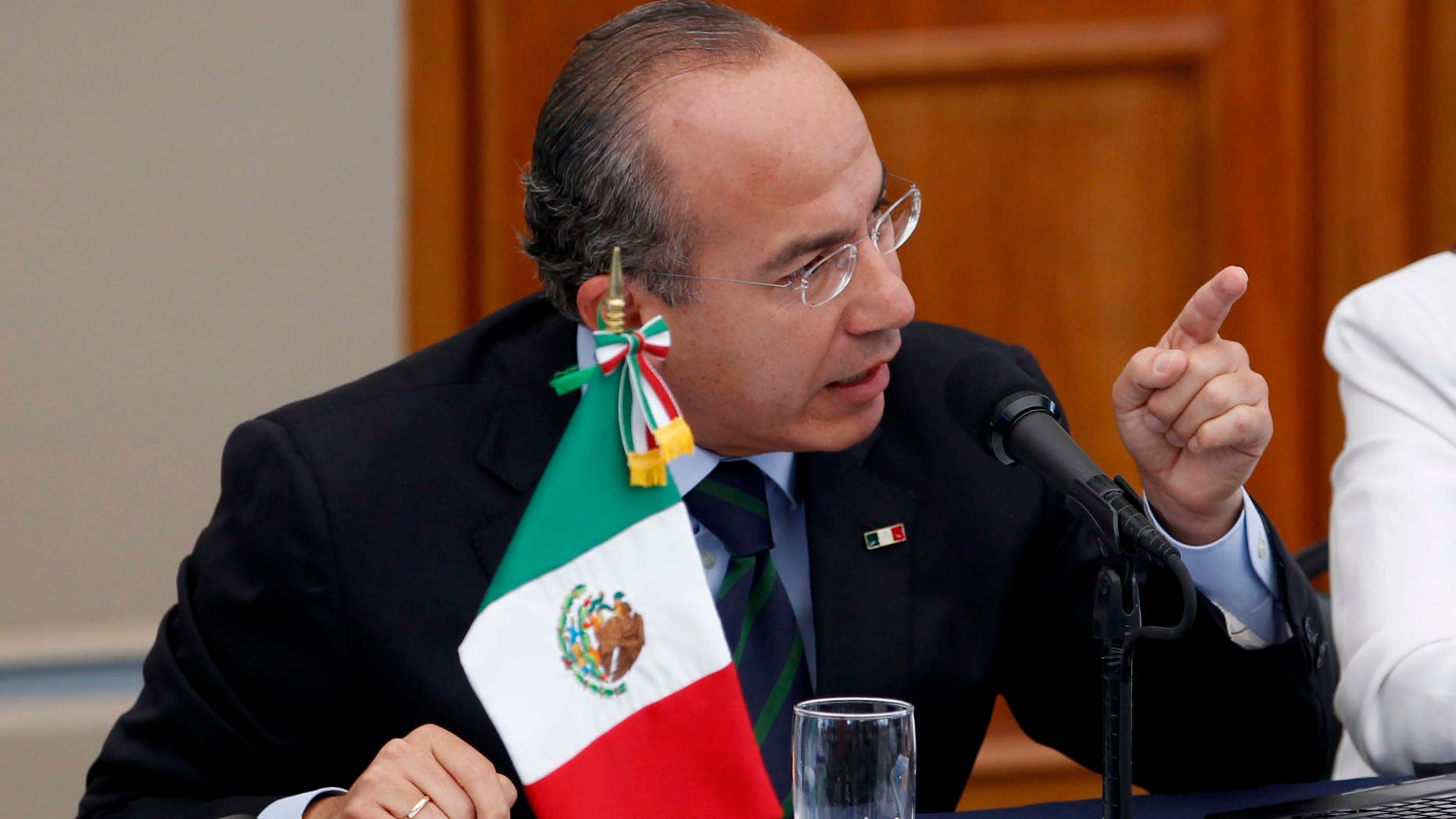 Activists in Mexico filed a war-crimes complaint Friday at the International Criminal Court against President Felipe Calderón, claiming war on the country's drug cartels has involved about 470 cases of human rights violations by the army or police.
Netzai Sandoval, a lawyer for the coalition behind the complaint, said Mexican drug lords have also committed crimes against humanity during the conflict, which has cost 35,000 to 40,000 lives since late 2006.
The complaint filed Friday at the court in the Netherlands also names Sinaloa cartel leader Joaquín "El Chapo" Guzmán.
Calderón's administration has denied the accusations, saying it's an elected, democratic government fighting criminals and has established mechanisms to protect human rights.
On Friday, Mexico's Interior Department issued a statement saying "the public safety policy that has been implemented by no means constitutes an international crime." It said the government's actions "are aimed at stopping criminal organizations and protecting all citizens."
"The Mexican government is not at war, and there is no generalized or systematic attack against civilians, nor any government policy in that direction," the statement said.
Violence in Mexico has ramped up not only between the cartels and the Mexican government, but between the cartels themselves. The country two dominant groups, the Zetas and the Sinaloa cartel, have recently been in an all-out war for control of major cities such as Veracruz and Guadalajara.
Earlier this week Mexican authorities in Guadalajara found 23 bodies bound and gagged in abandoned vehicles. Written in motor oil on the victims' bodies were the names of the Zetas and Millenium drug cartels.
Law enforcement officials and analysts saw that as a possible indication the two allied gangs were announcing their intent to seize a city historically controlled by the powerful Sinaloa cartel.
The Zetas and Sinaloa have emerged from years of Mexican drug wars as the largest cartels in the nation, and potential competitors for control of smuggling and other businesses worth billions of dollars a year. Both frequently form alliances of convenience with smaller local gangs.
Based on reporting by The Associated Press. 
Follow us on twitter.com/foxnewslatino
Like us at facebook.com/foxnewslatino